Corning Incorporated on Thursday has taken screen protection to a new height by introducing Corning Gorilla Glass 5. It is the successor of Gorilla Glass 4 which was announced back in 2014. The company brings best drop performance, touch sensitivity and damage resistance in its each latest version.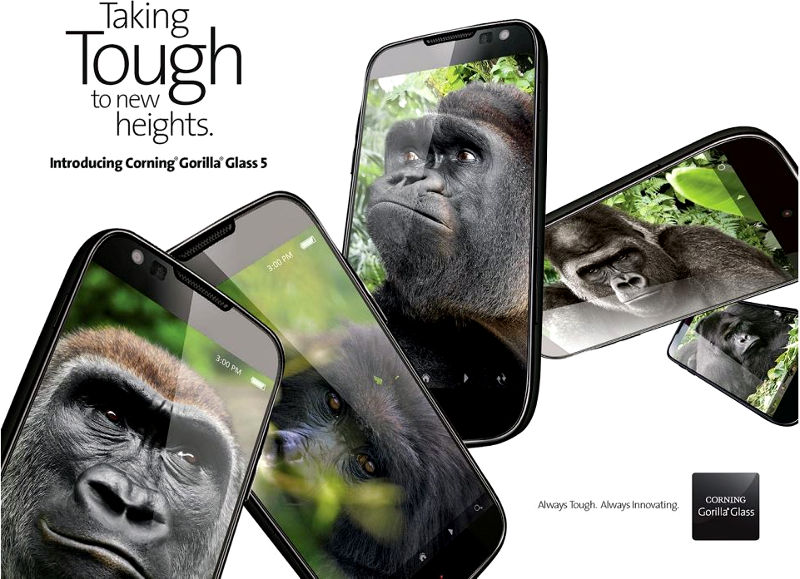 The new Corning Gorilla Glass 5 is designed in such a way that it protects the devices that are dropped onto rough surfaces from certain heights i.e. waist to shoulder height. Company says that the new glass can survive up to 80% of the time when dropped from 1.6 metres compared to 1 metres of Corning Gorilla Glass 4. There are more than 4.5 Billion devices worldwide which are being protected with Corning Glass.
Highlights of Corning Gorilla Glass 5:
Up to 2x improvement in damage resistance over Corning Gorilla Glass 4, and up to 4x improvement over alternate glasses
Up to 1.8x improvement over Gorilla Glass 4 in drop performance on
rough surfaces
Survives up to 80% of the time from drops at 1.6 meters
Corning Incorporated already started the production of Corning Gorilla Glass 5 and will be made available on different OEM devices including Samsung, HTC, Lenovo, LG, HP, Asus, Xiaomi, etc. later this year.