Download working Android 6.0 Marshmallow Gapps packages for Marshmallow Custom ROMs and CM 13 ROM. These gapps are compressed in a zip file and can be directly downloaded from the below links. The zip files contains all the necessary apps like Gmail, Google Play Store, Google Play Music, Google+, Google Calender, Google camera, etc. Each .zip package is bundled with certain set of applications. So do check the below list carefully and download the one according to your necessity. You can also download these Google apps for Xiaomi MIUI 7 Redmi & Mi smartphones.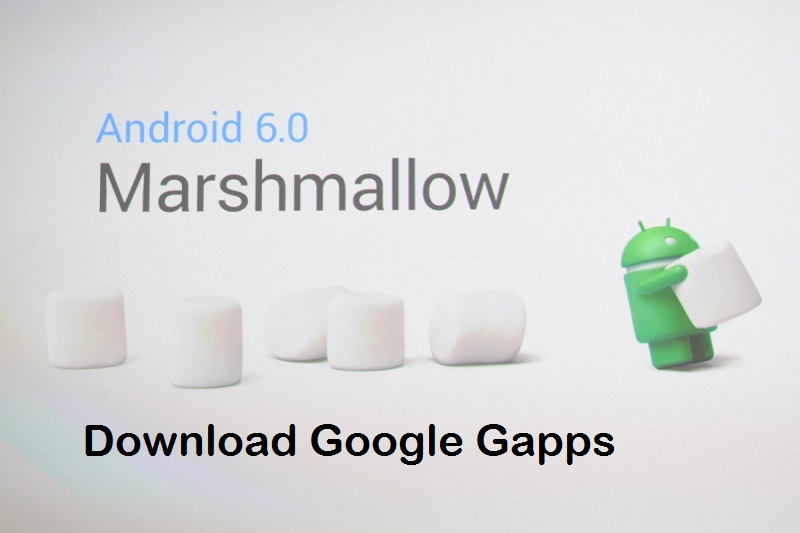 Here below you can also check how to flash these Gapps (Google apps) .zip files on your Marshmallow Custom ROM devices. You need to install TWRP recovery before flashing these Google Apps.
Download Marshmallow Gapps
The following are the list of Marshmallow Gapps packages –
Stock Marshmallow Gapps (490 MB):
This is the most downloaded Gapps package which includes all those apps that come pre-installed on the Nexus 6P and 5X.
Full Marshmallow Gapps (441 MB):
This package also most of the Google applications but doesn't replaces few system apps like Browser, Camera, SMS app, etc.
Mini Marshmallow Gapps (228 MB):
If you're looking Gapps packge with popular apps, then this is the best one to go to prefer. It includes all those applications which you find on newer Android devices.
Micro Marshmallow Gapps (142 MB):
This is another level down from the Mini Marshmallow Google apps packing containing only most popular apps like Gmail, Calender, and Google Search (Now) and few others which aren't available on Play Store.
Nano Marshmallow Gapps (91MB):
This is another minimal installation but includes the extra functionality that is not available from the Play Store.
Pico Marshmallow Gapps (49 MB):
This package contains only Google Play Store and its core files which make Play Store work.
How to install Android 6.0 Marshmallow Gapps on any Xiaomi smartphone
1. Download and transfer Gapps package to the root of your device internal/external storage.
2. Switch off your device and boot into TWRP/CWM recovery mode.
3. Then flash/install the Marshmallow Google apps package .zip file directly from recovery main menu.
4. Reboot your device.
5. You have now successfully installed all Google Apps on Android M 6.0 Marshmallow custom ROM or CM13 ROM.