One of the highlights of the Google Pixel's devices is the fingerprint gestures which lets you control the navigation drawer by just swiping down on the fingerprint sensor. As of now, these fingerprint gestures are only available for Google Pixel and Pixel XL devices. But if you really wanted to experience the gestures on your Android smartphone, then here we have an app called "Fingerprint Gesture" which can be directly downloaded and installed from Play Store.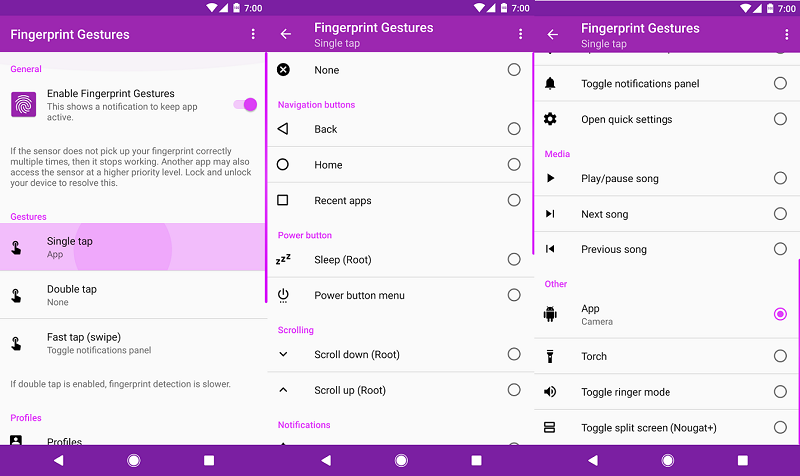 When these gestures was first revealed for Pixel series devices, there were many Nexus users who got disappointed. Regarding this, Google said that it will look over it to bring the same gestures to other models. Till then, an app from SuperThomasLab can be used to enjoy these gestures. You can configure tapping, double-tapping, or swiping on your device's fingerprint reader to perform a variety of functions. Various navigations functions, opening quick settings, media controls and more can also be performed. Devices with root access can perform additional actions like scrolling and activating mode.
Available actions
Icon touch panel
Back
Home
Recent apps
Sleep (Root)
Power button menu
Scroll down (Root)
Scroll up (Root)
Open notifications panel
Toggle notifications panel
Open quick settings
Play/pause song
Next song
Previous song
App
Torch
Toggle ringer mode
Toggle split screen
Download APK | Play Store
The app is compatible only with devices running on Android 6.0 Marshmallow and has fingerprint scanner. Users of Nexus 5X, ZenPad 3S 10 have reportedly installed the app and the gestures works fine for them.