TPS Xiaomi tool is one of the best software for Windows platform to remove Mi Account (Bypass Mi Account) on any Xiaomi Mi and Redmi smartphone. It also lets you Unlock or Disable Mi Account for your Xiaomi mobile. If you're one of the MIUI users and looking to remove your Mi Account, then refer to the below link to download TPS Xiaomi Tool [Latest 2021 Version].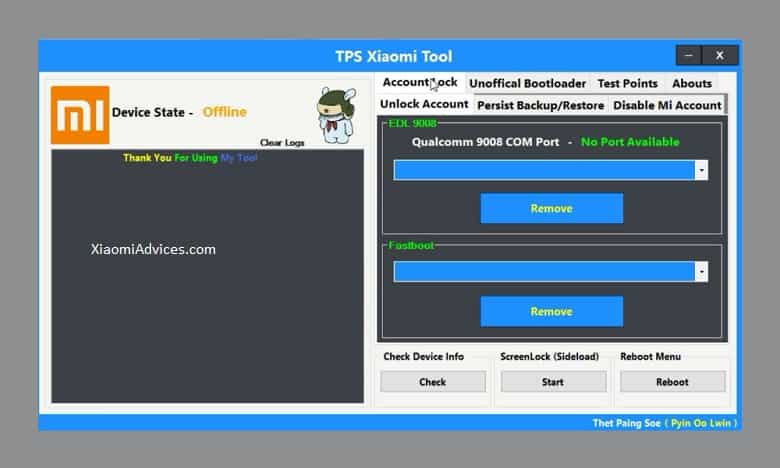 TPS Xiaomi Tool
Developed by the Miko Force team, the TPS Xiaomi Tool is among the best and free applications for windows that allows bypassing Mi account on any Xiaomi Mi and Redmi device. With this tool, users can remove Mi Account on their respective devices without a username and password. It's an unofficial tool with powers to unlock Mi Account with bootloader unlock.
TPS Xiaomi tool will be much handy when you have lost a registered SIM card which is used to verify the Mi account. In this case, the software helps to bypass or disable that Mi account. Here advanced users have two different methods to choose from: Qualcomm 9008 com port method and the Fastboot method.
The TPS Xiaomi tool is compatible with all the Windows platforms including Windows 7, Windows 8, 8.1, and Windows 10. In terms of devices, it works with all Mi & Redmi models [MIUI 11 / MIUI 12] including the Mi 10i, Mi 10T Pro 5G, Redmi 9 Prime, Redmi Note 9 Pro Max, Redmi K30, Mi Note 10 Pro, Redmi Note 8 Pro, Redmi Note 7S, Redmi Y3, Redmi 8, and more.
TPS Xiaomi Tool Features
Mi Account Unlock On EDL 9008
Fastboot Remove From Various Model
Bypass or Disable Mi Account
Check All Xiaomi Devices Information
Reboot Xiaomi Menu & More
Unofficial Bootloader Unlock for all Xiaomi Devices
Reset Xiaomi Devices
Download TPS Xiaomi Tool
How to use TPS Xiaomi Tool to Remove/Bypass/Unlock Mi Account on Mi and Redmi devices
There are two ways to unlock Mi Account on your Xiaomi device – Fastboot method and the EDL method. Choose the one which is more suitable for you.
1. Fastboot Method
Turn off your device. Now boot device pressing and holding Power + Volume Down until you see fastboot logo.
2. EDL Method
1. Firstly, make sure you have installed ADB & Fastboot drivers on your PC. Also, turn on USB debugging on your phone.
2. Connect the phone with the PC using a USB cable.
3. Open command prompt in PC and type the following commands:
adb reboot edl
4. You may get a pop-up message on your device display. Just allow ADB access.
5. In the TPS Xiaomi Tool, the device connection status will turn green showing ADB mode or Fastboot mode.
6. Select the device and hit the particular action button such as Remove, Backup, Erase, Restore, Bypass, and Disable. That's it! The tool will perform the action you have selected.
This is all about the latest TPS Xiaomi Tool 2021 download & installation guide. In case, if your device doesn't support the tool or you are facing any other errors while using the tool, do let us know in the below comment box. We'll get back with the most possible outcomes.