Like other Qualcomm processor chipset devices, the Xiaomi Mi Max also supports Emergency Download Mode or EDL Mode. This mode will be much handy when your device gets bricked and unable to unbricked using the ADB. All credits goes to Android developer member team for working on the EDL mode. Here below is the simple guide to boot into EDL mode using ADB, fastboot and hardware combinations keys methods.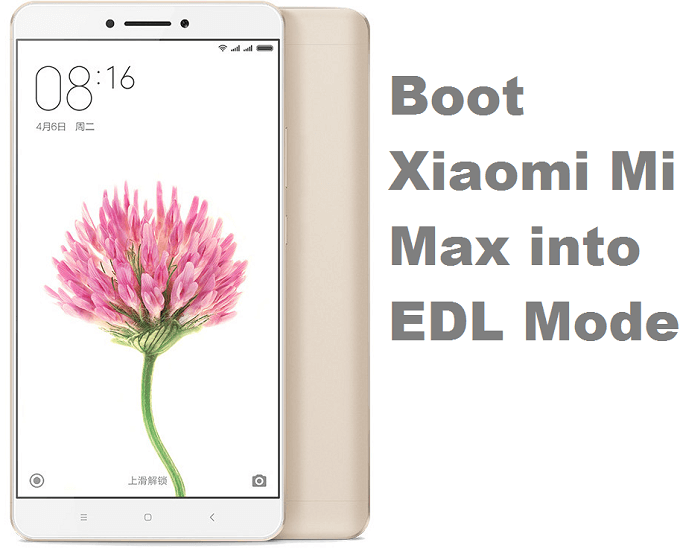 What is EDL Mode?
EDL stands for Emergency Download mode. This is the special mode though which users can perform various tasks like unbricking, unlock bootloader, and installation of any custom ROMs.
Preparing your device –
The guide works only for Xiaomi Mi Max. Don't try on any other model.
Windows PC and a standard USB cable.
Make sure Xiaomi USB Drivers or Mi PC Suite is installed on your device.
The battery level on the device should be maintain at least 75% or more.
Ensure USB Debugging is enabled. (Complete guide)
Backup all your important data including SMS, call logs, app data, media, etc.
Set ADB and Fastboot drivers on PC.
Put Xiaomi Mi Max into EDL mode:
There are three different methods to boot your Mi Max into EDL mode. Choose the one which is suitable for you.
Method 1: Fastboot Mode
Turn off the device and boot into Fastboot mode. This can be done by pressing Volume Down (-) and Power buttons simultaneously until anything is placed on the screen. Now you need to connect the device with PC. Launch command prompt window from the Minimal fastboot folder and give the following command: fastboot oem edl
Method 2: Using ADB
It is little bit similar to that of the above method. Here you need not to switch-off the device and boot into fastboot mode. Just connect the Mi Max with Windows computer using a standard USB cable and launch command prompt window from the folder where Minimal Fastboot files are located. Simply hold the shift key and then right click anywhere in the folder. From the various options, choose 'Open Command Window from here' and enter the command: adb reboot edl
Method 3: Using hardware keys
This is another method to boot Xiaomi Mi Max into EDL mode. Turn off the mobile and take a USB cable. Now connect one end of the cable to the PC port and leave the other end unconnected to the device. Now you need to press and hold Volume Up + Volume Down keys and then connect the other end of the USB cable with device. That's the device will automatically boots into EDL mode.
Related content: