Many Elephone mobile users may be wondering whether their handsets will be upgraded to Android 6.0 Marshmallow firmware or not? This China based company has always fulfil the customer needs by launching high-end devices at reasonable pricing.
Today the company has officially announced the list of devices to receive Android 6.0 Marshmallow update. The list also includes the name of the devices which will ship with Android 6.0 in the coming days. Read-on for the complete list.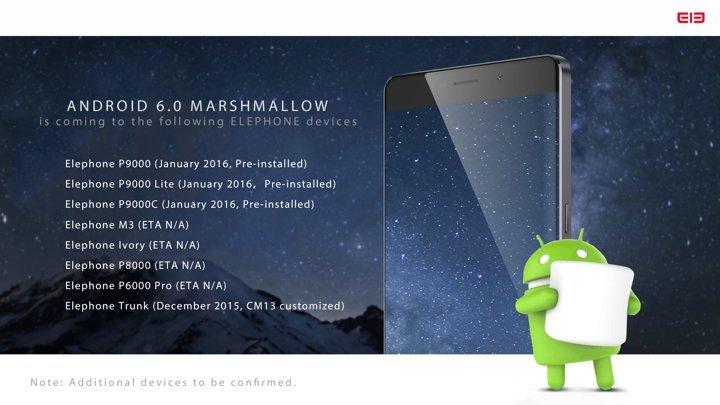 Though there are numerous Elephone devices available in the market, only few of them will receive Android 6.0 Marshmallow update. So, it will be too easy to remember the list. Also Xiaomi Mobiles to get Marshmallow update.
Elephone Android 6.0 Marshmallow Update details
Elephone Trunk
P6000
P9000*
P9000C*
P9000 Lite*
Ivory
M3
Some of the devices in the above list are marked with * indicates that it will be shipped with Android 6.0 in January 2016. Of all the devices, Elephone Trunk will receive the update as early as this month, whereas an ETA for other smartphone is still unknown.
Elephone might include few other devices to the above list in the next coming days. Software update has become more important these days as it makes the user to enjoy the latest technology features.