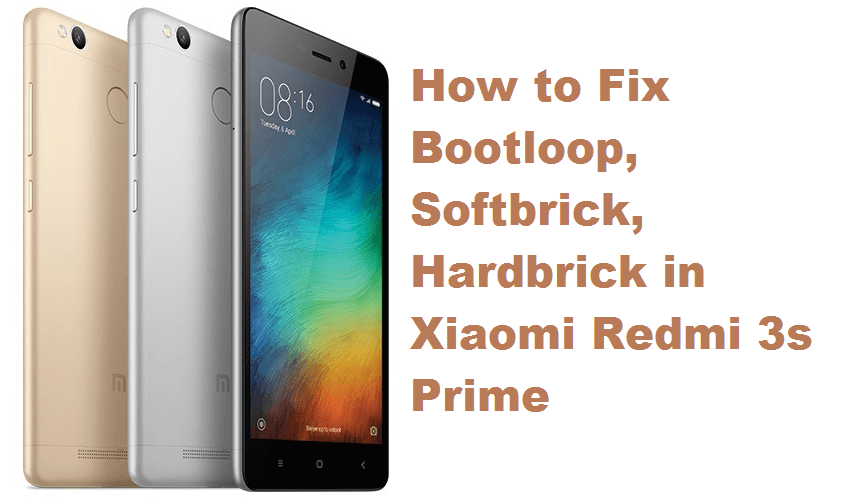 Hello MIUIers, today we are back with another tutorial that guides you to fix Bootloop, Softbrick & Hardbrick issues in Xiaomi Redmi 3s MIUI 8 smartphone. These are the common issues which most of the users face while updating their device whenever a new firmware is rolled out. Many Redmi 3s Prime users reportedly facing similar problems. For those, do read on the following where we have explained why Bootloop/ Softbrick/ Hard brick occurs on the Xiaomi smartphone and how to fix them. Also how to root Redmi 3s and Install GApps
What is Bootloop / Softbrick / Hardbrick?
Bootloop / Softbrick / Hardbrick on Android devices normally occurs during ROM flashing. Maybe you download the wrong ROM and flash on your mobile. Due to this, when you reboot your device into normal mode chances are high to see a brick situation. So, always choose the correct ROM and then proceed with the flashing process. It is always advisable to flash only MIUI Stable ROM on your Redmi 3s prime device as the MIUI developer ROM might not be totally stable to install. Check here how to flash MIUI Developer/Stable ROM on Xiaomi phones.
Bootloop is a situation where the user continuously sees the Mi logo during the start and the device never boots into the home screen. Simply it struck at Mi logo. Coming to Softbrick, it is a situation where your MIUI phone won't turn on. Unlike the Bootloop situation, here there will be no Mi logo being display but you will see only charging symbols.
Finally, Hard brick is a situation where your device doesn't respond at all means totally dead. Even the charging symbol will not be displayed and it also can't be boot into fastboot mode. Mi flash tool also fails to detect your device.
Guide to solve Bootloop / Softbrick / Hardbrick in Redmi 3s Prime:
Flashing stock ROM using Mi Flash tool can easily fix Bootloop or Softbrick issue on your Redmi 3s Prime. Just follow the below steps one after another and you're all done with bootloop/ softbrick issue.
Step 1: Download Mi Flash tool latest version and install it on your PC by following on-screen instructions.
Step 2: Download the latest version of ROM from the MIUI forum.
Step 3: Switch your mobile into fast boot mode and connect it with PC using a USB cable.
Step 4: Launch Mi flash tool.
Step 5: Choose your device model and then set the MIUI ROM path.
Step 6: Choose the following options – Format all / save data/lock bootloader.
Step 7: Locate the 'Flash' button and click on it.
Step 8: Flashing process starts and it might take 5-10 minutes to finish.
Step 9: Once done, the device reboots into normal mode.
All set! You have successfully fixed Bootloop and Softbrick issue on your Redmi 3s Prime.
How to fix Hardbrick in Redmi 3s Prime:
Soft brick of MIUI device can be easily fixed but coming to the hard brick situation, it's always a difficult task. The chances for recovery are minimal. But thanks to the test point method which makes things possible. Any users can easily handle a bricked situation. Stay tuned as we will soon update with a detailed guide on how to fix hard brick in Redmi 3s Prime using the test point method. Related download all-in-one flashing tool for Redmi 3s
Does the above tutorial useful? Let us know in the below comments.