Xiaomi Redmi Note 3 is one of the most successful company Android smartphone. Only reason behind it success could be high-end specifications at an affordable price tag. Like other devices, the Redmi Note 3 also comes with certain bugs and issues. One of such bug is WiFi connection issue. Some of the Redmi Note 3 users have reported that there are facing issue with Wi-Fi connection. So here we have shared simple solutions which helps to fix Redmi Note 3 Wi-Fi issues.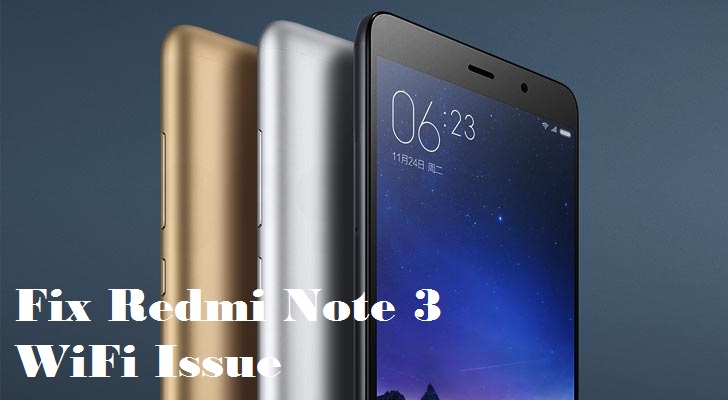 Potential Fixes for Redmi Note 3 Wi-Fi Issues
Solution 1: Toggle Wi-Fi
This is one of the best solution which works in fixing Wi-Fi issues on most of the Android smartphones. It also useful for slow Wi-Fi connections and in case your device unable to connect to any WiFi network. To toggle Wi-Fi on your Redmi Note 3, just pull down the notification bar, locate the Wi-Fi icon and switch it off by tapping on it. Wait for a minute or two, again tap on the same icon and let your device reconnect to the WiFi network. On a successful connection, cross check whether the problem is resolved by using internet through any Android app or else browser. Also Redmi Note 3 Android 6.0 Marshmallow update
Solution 2: Perform a Reboot
Rebooting your Android device will help to fix most of the problems including Wi-Fi connection, lagging issues, and other bugs & issues. Sometimes we see Wi-Fi issues because of the malfunctioning of certain processes or apps of the Redmi Note 3. With a reboot, the apps issue will be fixed and you'll find working Wi-Fi connection on your device. Now check if your WiFi problem is fixed.
Solution 3: Check Power Saving Mode
Today's generation devices comes with important feature like Power Saving Mode which helps to increase the battery performance of your smartphone. But sometimes, the phone restricts the Wi-Fi connection when the screen is turned off. You need to set right Settings for Power Saving Mode so that it should not disable WiFi connectivity whenever the screen is turned off or the battery level is too low. So just remove the restrictions and check if the issue has been resolved.
Solution 4: Toggle Airplane Mode
It will be much useful when your Xiaomi device unable to connect to a Wi-Fi network even though you're entering right password. Just follow the below quick steps to toggle Airplane mode in order to fix WiFi issue on your Redmi Note 3.
Drag down the notification tray on your device.
Switch off the Wi-Fi connection.
Enable Airplane mode by tapping on the icon.
Now turn on WiFi and connect it to your local network.
Switch off Airplane mode.
Check if the WiFi issue has been resolved.
Solution 5: Perform a Factory Reset
A lot of users have found a factory reset to be helpful in solving Wi-Fi issues. With a soft/hard reset, the device will be set to factory settings removing all the installed apps and other things which creating Wi-Fi connection issues on your device. Users can perform reset either from Settings or else through recovery mode. You can also follow our simple guide on how to perform hard/soft reset on Xiaomi Redmi Note 3.
These are the top 5 solution which helped other Redmi Note 3 users to fix Wi-Fi issue. If none of the above solution worked for you, then visit nearest service where the professionals will have a look over your issue.
Don't forget to share the post with your friends on Facebook and Twitter as it might be helpful for them. Stay tuned for more Redmi Note tips, tricks & tutorials.
Related Content:
How to Root Redmi Note 3 easily
How to use two SIMs, microSD card simultaneously on Redmi Note 3