Xiaomi already released MIUI 8 update for most of its Android smartphones & tablets. Many of you might have already upgraded to MIUI 8 ROM. If your device still runs on MIUI 7, then please update your Xiaomi phone to MIUI 8 Global/China Stable ROM as it brings several new features & performance improvements. Some of the key features of MIUI 8 are long screenshots, Second Space, dual app, new gallery, new phonebook style, new calculator, etc.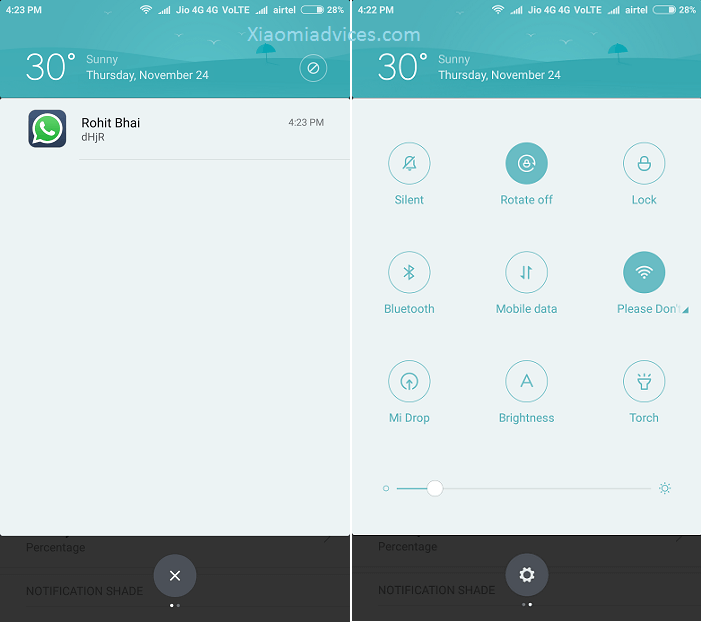 As we share MIUI 8 tips & tricks from time-to-time, here we have come up with tutorial on how to get old toggle bar on Xiaomi phones running MIUI 8. MIUI 8 is a major upgrade and developers have made maximum efforts to redesign the ROM. One such feature of the ROM is redesigned Toggle bar. But there are many users who don't like this feature and wanted to revert back to MIUI 7 toggle bar. If you are one of those users, then you are at the right place. Just follow the below quick steps to change the toggle bar function to 'Single' on your Xiaomi smartphone. Also MIUI 9 will be based on Android 7.0 Nougat – Release date, features
Get Old MIUI 7 Toggle Style on Xiaomi phones running MIUI 8:
1. Launch Settings App.
2. Tap on Notifications & Status bar.
3. Tap on Notifications & toggles layout.
4. You will see a pop-up on your device display with two options – Combined and Separate.
5. Tap on Separate.
6. All done! You will see old MIUI 7 toggle layout on your Xiaomi phone.
Now all your notifications will be shown in a separate section. The above steps works with each and every Xiaomi smartphone including Redmi Note 3, Mi5, Mi5S Plus, Redmi 3S / Prime, Mi Note 2, Mi Mix, Mi4, etc.