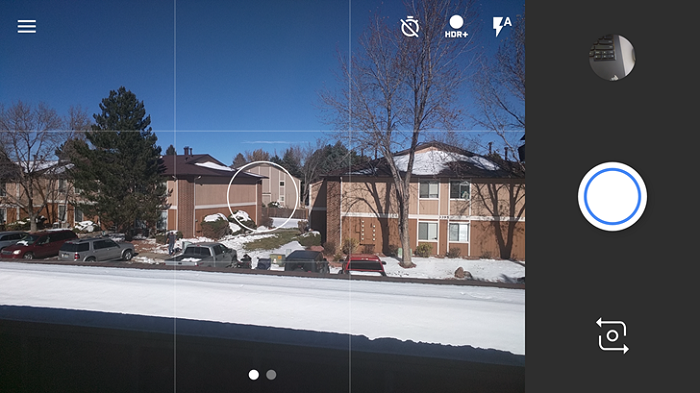 Android 6.0 Marshmallow & Android 7.0 Nougat users will be glad to hear that they can now experience the camera UI of the Nexus 5X and Nexus 6P on their respective devices with the help of latest Google Camera 3.1 app. The latest update brings changes in UI for all the Marshmallow device irrespective of Nexus devices. Now the users just need to swipe left or right to toggle between video recording and photo modes.
The latest Google camera update brings new features like Auto HDR+ mode (only Nexus 6), touch to focus is working while taking videos, slow motion mode, etc. Google has added shutter button on the right hand side, shortcut to photos on top and the camera switch toggle below in the landscape mode. Now you will find quick settings for timer, flash, and HDR modes. Now no photos will be captured when you tap on screen while video recording instead the device focus on the tapped spot. Also you can take any number of burst photos by disabling SmartBurst in settings. Earlier if SmartBurst option was disabled, you were not able to take any burst photos at all.
The latest Google Camera 3.1 features will be compatible to your Marshmallow/Nougat device depending upon the hardware specifications and power. So, don't be disappointed if you don't get access to all the new features.
The update is currently rolling out to the Google Play Store which might takes time to show on your device. You can download the direct link of Google Camera 3.1 APK from the below provided link.
Google Camera 3.1 APK for Marshmallow/Nougat devices
Download (ARM)
File Name: com.google.android.GoogleCamera_3.1.021_(2428808-30)-31021130_minAPI23(armeabi-v7a)(nodpi).apk
Version: 3.1.021 (2428808-30) (31021130)
MD5: 253f4539d58530788d1b535ae69cd958
Download (ARM 64)
File Name: com.google.android.GoogleCamera_3.1.021_(2428808-40)-31021140_minAPI23(arm64-v8a)(nodpi).apk
Version: 3.1.021 (2428808-40) (31021140)
MD5: 8eb2d5076eba02175ac9cfc0d735bd57