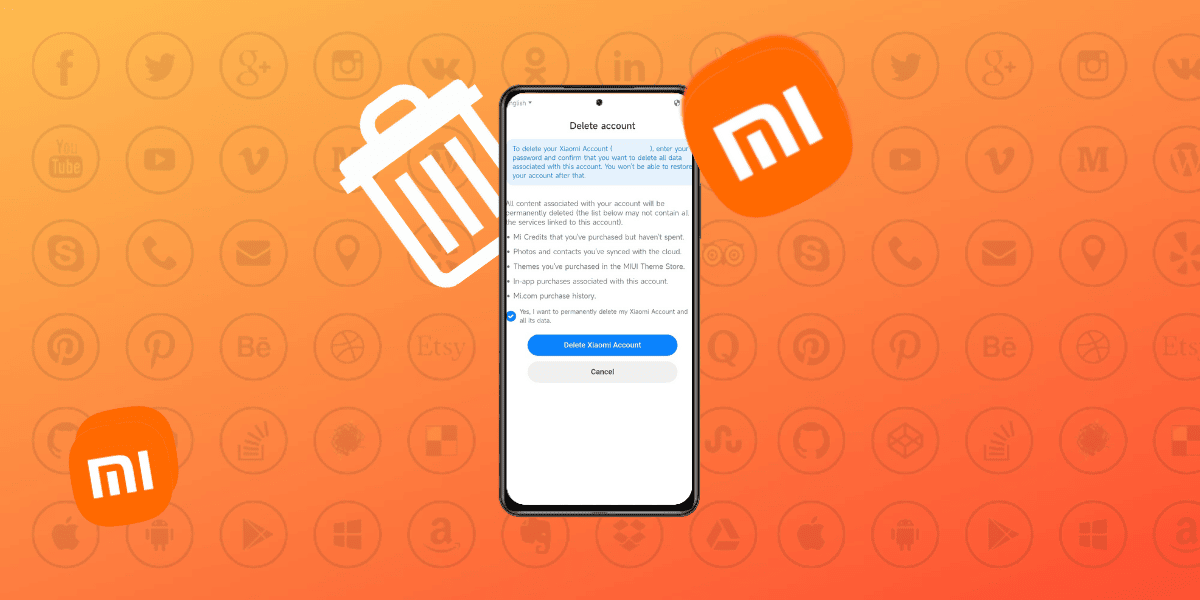 If you want to delete your Mi Account permanently, you're at the right place. This article will show you how to permanently delete Mi Account from your Xiaomi, POCO, and Redmi Devices.
What is a Mi account?
Mi Account is a valuable tool created by Xiaomi to identify its users. With a Mi Account, individuals can enjoy a wide range of Xiaomi products and services, including Xiaomi Cloud, Mi Pay, Mi Store, Mi Home, Mi Community, and Mi Music. Moreover, Mi Account allows users to purchase Mi coins, which can be used to access virtual products and services such as games and e-books. Xiaomi takes the privacy and security of your personal information seriously, employing industry-standard practices to safeguard your Mi Account and ensure your data is protected.
How Do I Delete Mi Account?
Xiaomi's MIUI offers some features similar to iOS systems. These features include text over the internet and backup contacts and photos. To utilize these features, a Mi Account is necessary. Suppose you plan on deleting your Mi Account but still want to use MIUI. Having another account to log in is essential. Otherwise, you may miss out on a lot of functionality provided by MIUI.
Before you continue with the process of deleting your Mi Account, there are two crucial things you should know:
All your saved data will be permanently deleted during this process.

You will need access to the phone number or email address associated with your Mi Account to delete it.
It's also crucial to note that if you don't log out of the Find My Device feature on all devices linked to your Mi Account before deleting it, you won't be able to use it on another account.
To Delete Your Mi Account Permanently, you can follow these steps:
Step 1: Ensure you can access the phone number or email address associated with your Mi Account.
Step 2: Visit the Mi Account website (https://account.xiaomi.com/) and sign in with your Mi Account credentials (username and password).
Step 3: To find the option to delete or close your account, search for it within the "Need Help?" section. Please note that the exact location of this option may vary depending on the version of the Mi Account interface you are using. In my case, I found it inside the "Need Help?" option.
Step 4: Follow the prompts and provide any necessary verification, such as a verification code sent to your registered phone number or email.
Step 5: Carefully read any terms or conditions related to the account deletion process.
Step 6: Confirm the deletion of your Mi Account. This action is irreversible and will permanently delete your account and associated data.
Step 7: After confirming, you should receive a confirmation message or email indicating your Mi Account has been successfully deleted.
FAQs
Can I Recover My Mi Account After Deleting it?
No, once you delete your Mi account, it is not possible to recover it. Therefore, ensuring that you have backed up any important data associated with your account before initiating the deletion process is essential.
Will Deleting My Mi Account Remove My Personal Data?
Deleting your Mi account will remove your data from Mi's servers. However, it's important to note that Mi may retain some data for a certain period per their data retention policy.
Is it Possible to Transfer Data Before Deleting My Mi Account?
Yes, transferring your data before deleting your Mi account is possible. Ensure that you have backed up your data and transferred any necessary information to another device or storage medium before proceeding with the deletion process.
How Long Does it Take to Delete a Mi Account?
The account deletion process typically takes a few days to complete. During this time, Mi will verify your account details and ensure the security of the deletion request. You may receive email notifications regarding the progress of the deletion process.
Will Deleting My Mi Account Affect My Other Xiaomi Devices?
Yes, deleting your Mi account will impact your other Xiaomi devices. You may no longer be able to access certain features or services that require a Mi account for authentication. It's important to consider the consequences before proceeding with the deletion.
Can I Delete My Mi Account Without Access to the Registered Email Address?
To delete your Mi account, you need access to the registered email address or phone number associated with the account. This is necessary for identity verification purposes. If you no longer have access to the registered email address, it may be challenging to delete your Mi account.
Before you delete your Mi Account, it's crucial to understand the consequences. Deleting your Mi Account means you will lose all your associated data, including Xiaomi Cloud data, app settings, and Mi credits. Furthermore, any devices linked to the account will no longer have access to Mi services. It's highly recommended to back up any important data before proceeding with the account deletion process. To create a new account, refer to the guide "How to Create Mi Account & Xiaomi Cloud Account?" for step-by-step instructions.
If you liked our article, please let us know how you feel about it in the comment section.