Fix "Bluetooth automatically turns off" issue on Xiaomi MIUI: Talking about the high quality smartphones at an affordable price tag, first name that comes in our mind is "Xiaomi". Yes, the Xiaomi is currently one of the most preferred smartphone brand in India. The company launches over half a dozen of Mi & Redmi smartphones in the country. There are some users who have reportedly facing "Bluetooth automatically turns off" on their MIUI smartphones. Here, we'll guide you to fix the issue permanently.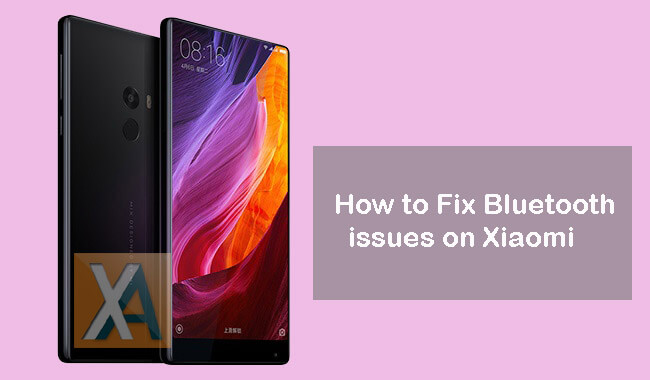 With a growth in technology, more and more Bluetooth devices have been introduced in the markets. Car Bluetooth, stereos, headsets, speakers, keyboards, and other Bluetooth paraphernalia are now populating the electronics market across the globe. With smartphones featuring Bluetooth connectivity, there have the option to control the tech products right from their smartphones. In this way, Bluetooth connectivity is offering convenience and mobility benefits for most of the smartphone users.
But, things could be messy sometimes. Like other smartphone features, Bluetooth can be plagued with random issues. In fact, it is most common issues face by users of both Android and iOS. Sometimes, the Xiaomi MIUI phones won't pair with or connect to a Bluetooth device. If you're among those users, then here we have shared simple solution for you. Without much ado, follow the below steps to fix "Bluetooth automatically turns off" on Xiaomi MIUI phones.
Guide to fix "Bluetooth automatically turns off" on Xiaomi MIUI phones
Tip 1: Clear the Bluetooth app cache
Sometimes, temporary cache files of Bluetooth app makes things messy. So, you need to clear Bluetooth app cache from device settings. Follow the below steps to clear Bluetooth app cache –
1. Launch the Settings app and tap on App manager.
2. Navigate to Bluetooth app and tap on it.
3. Tap on storage.
4. At last, tap on clear cache button.
Related Content: How to Fix Xiaomi MIUI Restarting and Freezing issues
How to Remove Password/ PIN/ Pattern Lock on any Xiaomi MIUI phone
Tip 2: Clear the system cache
1. Turn off your MIUI device.
2. Now, press and hold the "Volume up + Power" buttons to boot into stock recovery mode.
3. Use the volume keys to highlight wipe cache partition and confirm it using power key.
4. Confirm it by selecting 'Yes' option.
Tip 3: Hard Reset your Xiaomi MIUI phone
If any of the above tips doesn't works for you, then you need to perform "Hard Reset" which is solution for most of the issues. But do perform a backup, as factory reset erases all your device data.
To perform factory reset, follow the path: Settings > Additional Settings > Factory Data Reset > Confirm.
If any of the above tips doesn't work you to solve "Bluetooth automatically turns off" issue on your MIUI phone, then do get check your smartphone at the nearest authorized service center. For any other queries, do feel free to comment below.