Hello MIUIers, hope you are having a good time with your respective Xiaomi smartphones. Today our topic is Antivirus which is concern as the important part to secure your device from viruses. There are already plenty of Antivirus software available on Google Play Store, some are free and others are premium versions. These third-party security apps might not work properly or sometimes the device also faces lagging issues. But the good thing about Xiaomi phones is that it comes with its own Antivirus out of the box. Today we'll be learning how to secure Xiaomi phone (MIUI 8) with its own Antivirus.
To let you known, Xiaomi phones comes pre-installed with three different types of Antivirus Engine. They are:
All the above three are popular Antivirus software's, which are in partnership with Xiaomi. All the Xiaomi phones namely Redmi Note 3, Mi5/Mi5S, Redmi Note 4, Mi Note 2, Mi Mix, Mi Pad 2, etc. comes installed with these Antivirus security. So there is no need to download and install any other Antivirus app on your device. You can use one or two or all the three at the same time. Besides, you will also get regular updates for all these security apps from time to time. Also how to enable Dual Apps feature on Xiaomi phones
There are several MIUI users who might not be aware of this feature. So here we have shared simple steps on how to use this system and secure your device from Viruses.
Firstly open Security app and tap on "Virus Scan". Locate the settings icon at the top right corner of the screen and tap on it.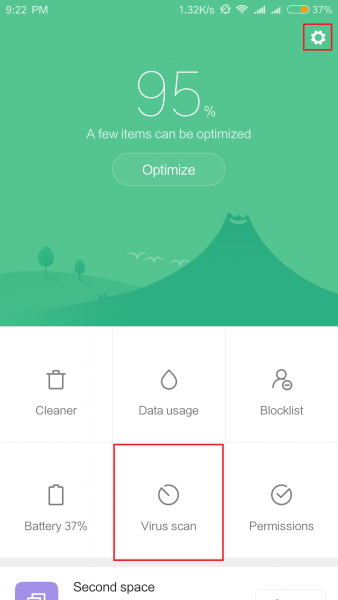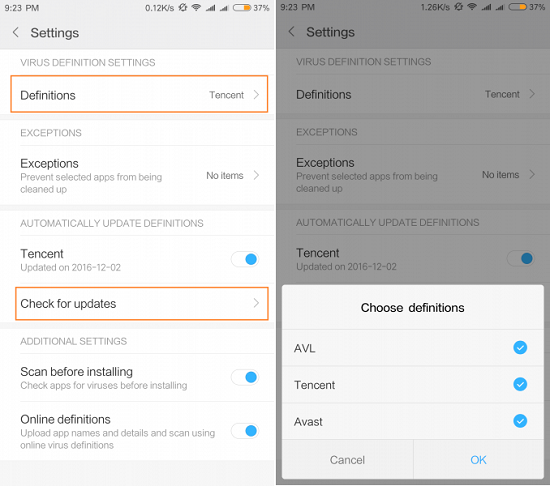 Choose Definitions and there is also option to update them. That's it! You are all set to scan your device for viruses. Also download best Wallpapers (Full HD) for Xiaomi phones
For more such tutorials, do visit our MIUI 8 section.