At Reliance Annual General Meet, Mukesh Ambani Chairman of RIL (Reliance Industries Limited) officially announced the Jio network in India. As expected, Ambani took the stage and rollouts the 4G VoLTE service which has been generating much user interest in last couple of months. Millions of Indian citizens have already got a Free Jio 4G SIM card and enjoying the service during the trial period. Earlier the SIM was available to LYF and few limited Samsung devices, later the company adds more OEM devices to the list including Yu, Sony, Intex, Lava, Xolo, Alcatel, TCL, Sansui, Gionee, Micromax, and more. All these devices with 4G LTE can get free Jio 4G SIM along with Preview Offer which includes unlimited 4G data, calls, SMS, and video calls.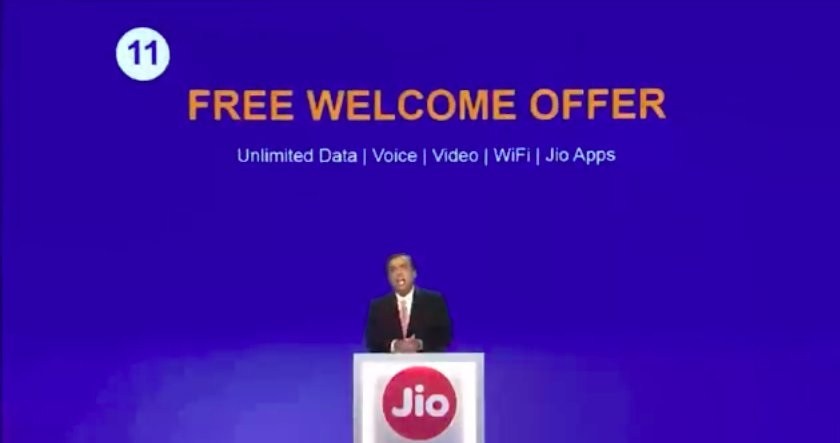 Today, RIL chairman Mukesh Ambani at AGM announces "Jio Free Welcome Offer" for all smartphone users in India. Unlike Preview Offer which was limited to selected handsets, the new Jio Free Welcome Offer is open to everyone. Under this offer, everyone can get the Jio SIM card for free and use all the Jio services till the year ends i.e. 31st December 2016. The company rolled out this offer to get feedback from the users about the quality of calls, data and other network services.
The following are the free services users can enjoy under Jio Free Welcome Offer –
Free voice & video calls
Free 4G data
Free SMS
Free video streaming
Free access Jio apps
This Jio Offer starts from September 5th and will continue till December 31st. After the end of the year, users need to recharge their number with any of the Jio Plans/tariff and continue using their services.
After knowing this, most of you wondering how to get the Jio SIM with Free Welcome Offer? To let them know, they need to visit any Reliance Digital, Digital Xpress, DX Mini store, or any other partner stores where the SIMs are available along with necessary documents (Address & ID Proof) from September 5th.
Apart from Free Welcome Offer, Reliance also announced Jio Plans & tariffs which comes into play after 31st December 2016. The base plan is as low as Rs. 19 and the highest plan is Rs. 4999 which will be handy for heavy data users. Just have a look at the below image for complete Jio plans and tariffs.