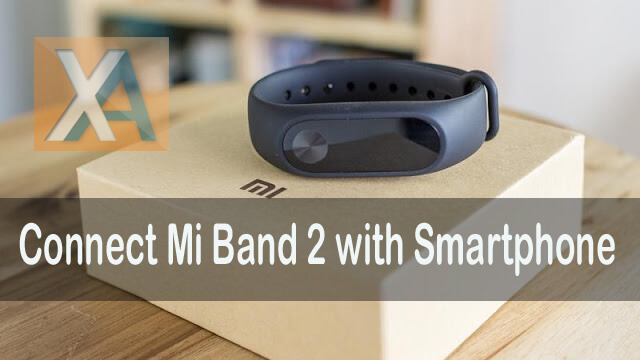 Facing difficulty in paring your Xiaomi Mi Band 2 fitness tracker with your Android/iOS smartphone? No need to worry! Here we have a complete guide on how to connect Mi Band 2 with your phone and start achieving your fitness goals.
Xiaomi Mi Band 2 is one of the best fitness tracker available in the market pricing under $20. Key reason behind the success of Mi Band 2 is not only its cheap price tag, but also inclusion of various impressive features like Pedometer, Heart Rate Monitor, Sleep Monitor, Calorie Record, and more. Presence of OLED Touch screen display is another factor behind its success rate all over the world. Those who successfully purchased this smart band have reportedly facing paring issues. They find difficulty in binding the Mi Band to their smartphone. For all those users to make things simple, here we have detailed step by step guide on the same.
Note: Make sure to charge your Mi Band 2 before starting the below procedure.
Also: How to Reset Mi Band 2
How to Connect Xiaomi Mi Band 2 with Android/iOS smartphone:
Step 1: Download the Mi Fit app
Mi Fit app is an official fitness tracker app from Xiaomi. Android phone users need to launch Google Play Store and search for "Mi Fit" app. Similarly, iPhone iOS users can get the app from Apple store and Xiaomi users can search it in Xiaomi App market.
Next you need to connect your device to internet and download Mi Fit application.
Step 2: Sign in to your Mi account
After successfully installation of Mi Fit app, you need to launch it from app drawer. Here, you'll see a popup asking for device data access. Simply tap "Allow" and choose which data you want to allow the app to use in the next interface. Next you need to accept user agreement and privacy policy to proceed further.
Then tap on 'Sign in' and enter login credentials of your Mi account. If you don't have any Mi account, then you need to create now. You can also follow our guide on how to create Xiaomi Mi account.
Step 3: Enter Personal Information
Once sign-in with your Mi account, you need to provide necessary personal information including Nickname, Date of Birth, Gender, Height, Activity goals, etc. Doing this, your profile on Mi Fit app will be successfully set.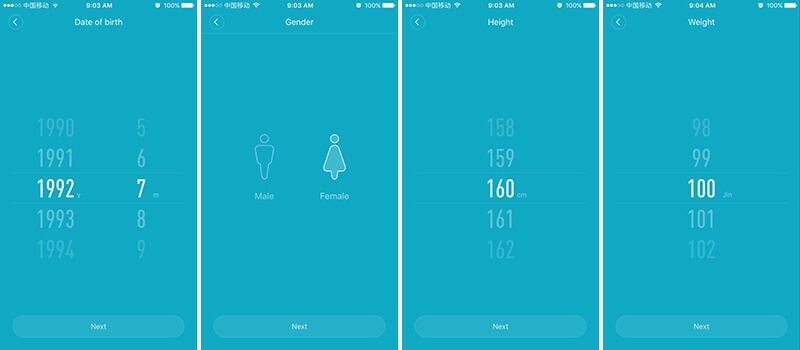 Step 4: Pair the Mi Fit with Mi Band 2
After finishing the above step, Mi Fit app prompt you to open the phone's Bluetooth and pair with the Mi Band 2. So, drag down the shortcut menu on Android while the iOS users need to drag it from bottom and enable Bluetooth connectivity.
Under Mi Fit profile interface, you need to tap on "Add device". Here you'll find which Xiaomi devices can be connected with the Mi Fit app. As it is a Mi Band 2, you need to select 'Band' option.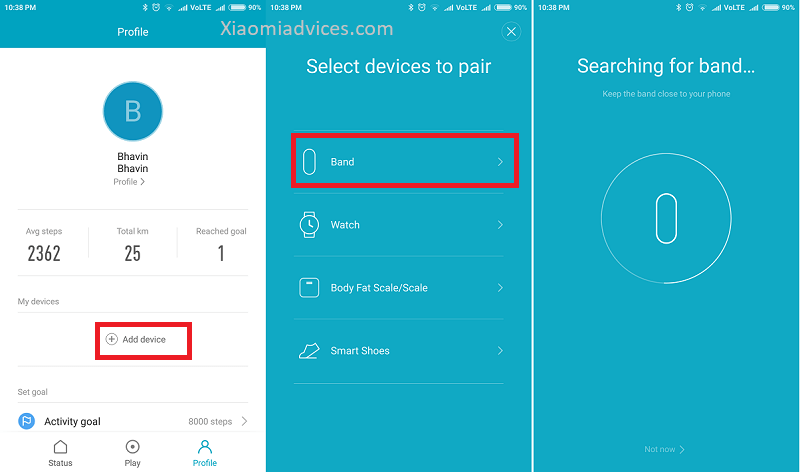 Mi Fit automatically searches for Mi Band 2 using Bluetooth connectivity. Once it is detected, the Mi Band 2 vibrates and you will see an image on the LED display asking to tap the button. Simply tap the button to finish the pairing process.
Step 5: Confirm whether it is pair with your Android/iOS phone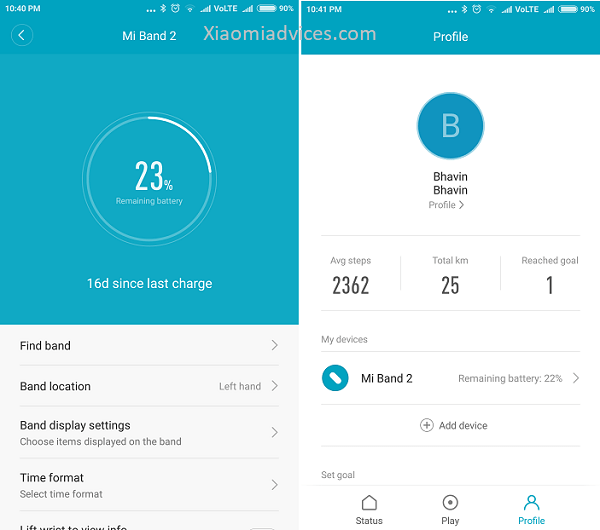 To verify whether the Mi Band is successfully connected with your phone, go to Mi Fit profile interface and find Mi Band 2 under "My devices" list.
That's it friends! You have successfully finished pairing process of Mi Band 2 with your smartphone. Now you can start setting your fitness goals to live a healthy life.
Also: How to Enable App Notifications (WhatsApp Alerts) on Mi Band 2