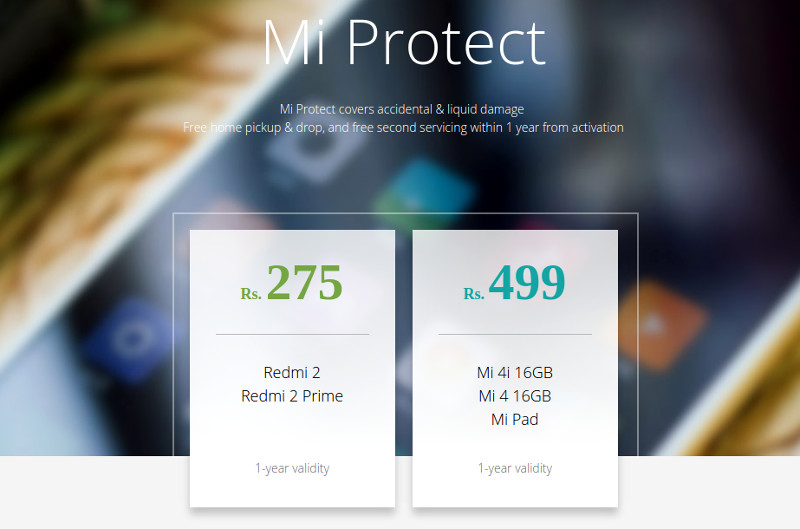 Earlier Xiaomi launched 'PickMi' service in India and now it is all planning to introduce a new insurance service called the 'Mi Protect'. The insurance service is eligible only for Xiaomi smartphones and tablets in India. The service will be applicable in case of accidental and liquid damage of Mi phones, free home pick up and drop, and provides additional servicing within 1 year from activation date.
Only four Mi phones and tablets are eligible for the Mi Protect service. The service costs Rs. 275 for Redmi 2 and Redmi 2 Prime devices and a sum of Rs. 499 will be charged for Mi 4i, Mi 4 and Mi Pad devices. Currently, the company didn't announce any plans for Redmi 1S and Redmi Note smartphones. The Mi Protect service will be soon available to purchase from its official website, Mi.com/in.
The insurance can be claimed only if the damage is genuine due to falling, Collison, or liquid and the device should be under protection. The customers can raise a request for insurance claim using the toll-free numbers 1800 407 333 333, 1800 123 3330, or 0 8080 333 333. Once the request is submitted, the Mi Protect team will visit you to survey the damage. Once you passed out of the survey, the team will initiate the claim verification and free-repair process.
Features of Xiaomi Mi Protect Insurance service
One call to block your SIM from anywhere in the world, 24×7 Assistance
SIM misuse insurance covers up to Rs. 3000
Mobile Handset Accidental and liquid damage insurance (As per the handset and Specific plan)
Pick-up & Drop service for repair of the handset
Smartphone assistance
Docusate – online storage of documents up to 1GB
For more details, check out the terms and conditions here.