Xiaomi already announced that its next iteration of MIUI version i.e. the MIUI 10 will be officially release on May 31 alongside the Mi 8 flagship smartphone. With a week to go, Xiaomi today started recruitment for MIUI 10 Beta update, and it came faster than expected. Interested users in China can now register for MIUI 10 Beta recruitment program.
The following are the list of Mi & Redmi phones that should support beta edition of MIUI 10 ROM:
Mi Series
Mi 3, Mi 4, Mi 4s, Mi 4c, Mi 5, Mi 5s, Mi 5s Plus, Mi 5x, Mi 6, Mi Max, Mi Max 2, Mi Mix, Mi Mix 2, Mi Mix 2S, Mi Note 2, Mi Note 3
Redmi Series
Redmi Y1, Redmi Y1 Lite, Redmi Note 3, Redmi Note 3 Pro, Redmi Note 4, Redmi Note 4X, Redmi 5A, Redmi 5, Redmi 5 Plus, Redmi 4A, Redmi 4X, Redmi 4, Redmi 3, Redmi 3S, Redmi 3 Prime, Redmi3X, and Redmi Pro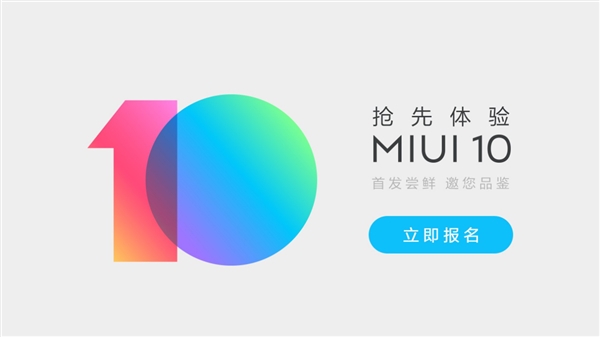 As of now, the MIUI 10 Beta is open only for local users (China) but we can soon expect for other countries once the ROM is announced globally. Do remember that the interested users for MIUI 10 beta need to submit the application by May 31. Thereafter the company will not accept any applications. After the application is reviewed, some of the lucky users have the chance to download and install the MIUI 10 on their supportive smartphone soon after its official announcement on May 31.
Xiaomi's latest MIUI version will be faster than lightning. This indicates how Xiaomi has work hard to design the MIUI 10 to offer faster performance than the MIUI 9. There is no official list of Xiaomi phones to get MIUI 10 update, but a previous reports claims that the devices running on Android 5.0 Lollipop will not be eligible to get the update. Only reason behind Xiaomi suspending further MIUI updates to Lollipop devices is to ensure better performance.
To make eligible for MIUI 10 update, users need to obtain a registration code to proceed with the application. Here are the steps regarding the same –
1. Search for "MIUI" on WeChat and follow MIUI 10
2. Send "MIUI 10" to obtain the registration code.
3. Next, you need to tap the menu bar "MIUI10" button, select your phone model and fill in the registration code.
That's it! You'll be informed if your application was accepted from May 29.
Since, Xiaomi Mi 8 is also scheduled to launch at the same MIUI 10 event, it is highly possible that the flagship comes preinstalled with it. Everything will be clear once the flagship goes official upcoming Thursday. Stay tuned!