Adding Google search bar on the Home screen of Xiaomi devices is quite simple and can be easily done by every MIUI 7 user. Once added, you can quickly surf the web directly from the home screen of your Mi device without going to the App drawer and launching the browser. If you're new to MIUI 7 and doesn't know how to add Google search bar to your device Home screen, then no need to worry as we have shared the tutorial on the same. If you haven't updated your Xiaomi smartphone to MIUI 7, then download & install from the following link.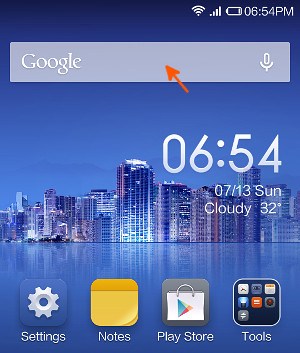 In order to get Google search bar on your Home screen of Xiaomi Android smartphone running on MIUI 7, you need to follow the below steps one after another –
1. Firstly make sure the Google app is installed on your Mi device.
2. Now you need to pinch on your home screen using 2 fingers in order to access the home screen settings.
3. Then tap on Widgets.
4. Tap Google App.
5. Next you need to drag Google App to the position you want on your Xiaomi Home screen.
6. There you go! You have just added Google search bar on your Xiaomi Home screen.
In order to remove the Google search bar from Home screen, just long press on the bar and drag towards the remove option located at the top.
For more tips and tutorials, do visit our MIUI7 section.