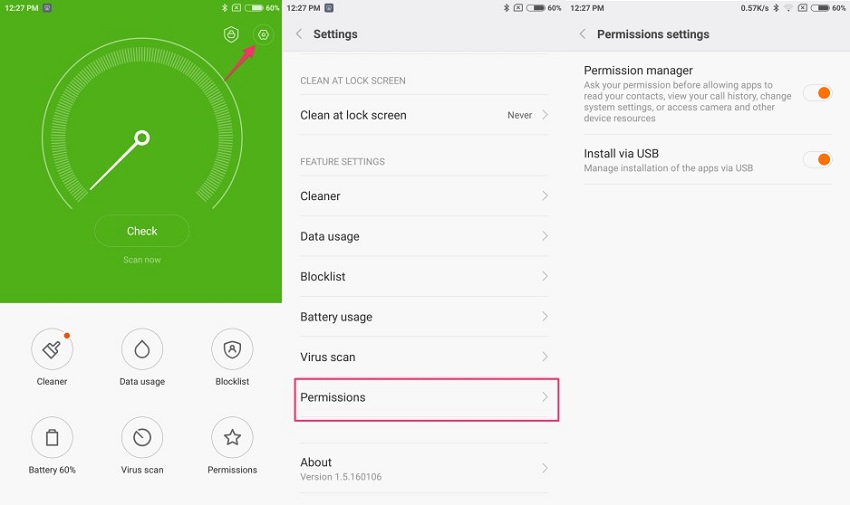 Most of the Xiaomi smartphones still runs on Android Lollipop / KitKat thereby missing the most important Marshmallow App Permission Manager feature. It is also absent in Xiaomi Mi5 which is currently on Android 6.0 Marshmallow OS. With permission manager feature, users will be able to grant or deny access to permissions of various apps installed on their device. But MIUI users need not to worry as Xiaomi introduced the same permission feature on all its devices running on MIUI 7 or above.
The feature will be enabled by default on all Marshmallow devices but in the case of Xiaomi phones you need to enable it manually. All the Xiaomi users can easily enable the app permission through Security application.
The following is the simple guide on how to enable the permission manager in MIUI 8 Marshmallow.
Enable Permission Manager on Xiaomi MIUI devices:
1. From the app drawer, launch the 'Security' app and then tap on Settings icon located at the top right corner of the display.
2. Scroll down till you find Permission settings and then tap on it. Next you need to toggle-on the 'Permission manager' option to enable on your device. Now any app which has been updated for Marshmallow will ask the required permission without automatically granting for permission.
3. In order to manage permission of installed apps, head to the path Security > Permissions > Permissions and manage on either a per-app basis or a per-permission basis.
4. In this way, you can manage permissions before any installed app tries to read contacts, view your call history, access camera and much more.
Do share the post with your friends and let them manage app permission on their respective Xiaomi Android phones. For more Xiaomi tips, tricks & MIUI 8 update tutorials, do visit our MIUI section.