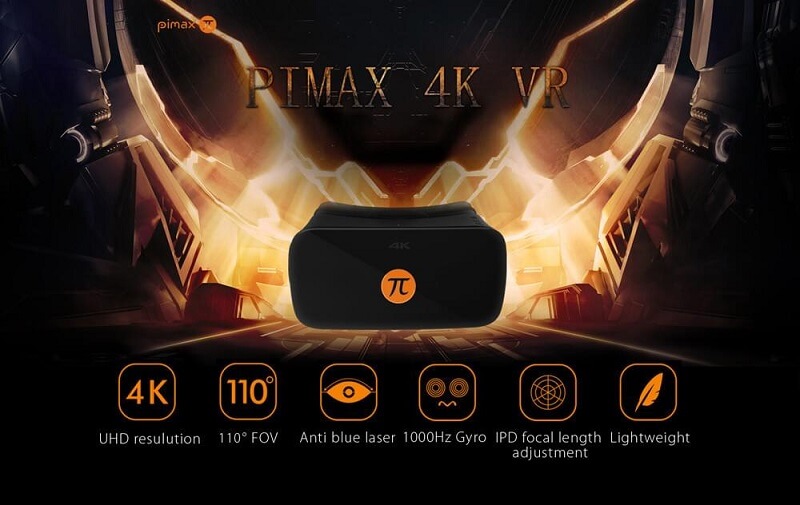 These days virtual reality is not limited to cardboard only, but you'll find various prototypes introduced in past few years. PIMAX 4K UHD virtual reality 3D is one of the latest introduction which takes virtual reality to next level. Introduced at CES Asia 2016, it is one of the best virtual reality headset offering best in class experience. If you're looking to buy this PIMAX 4K UHD Virtual Reality 3D PC Headset, then we have a really great deal for you. Currently, this virtual reality headset from PIMAX is on sale on GearBest for just $299.99. Before we take you to the deal, let's have a quick overview at the specifications and features.
Unlike other VR products, this PIMAX 4K UHD virtual reality is designed to work with your PC, in much the same way as the HTC Vive and Oculus Rift. For this, you need to have Windows computer (Windows 7, 8 or 10) coupled with Intel i5 CPU chipset (as minimum) and either a DirectX 3D10, NVIDIA GTX 960, or AMD R9 290 (as minimum).
It weighs very little, and built with superb technology that overcomes various problems which currently faced on many other headsets. The PIMAX 4K headset also offers a 4K (3840 x 2160 pixels) resolution with auto light adjustment and auto demisting system. This feature prevents your eyesight from the harm of blue laser.
The headset also consists couple of ports to attach peripherals such as HDMI port and one USB 3.0 port, and it does support headphones that are adjustable and usable. Apart from 1000Hz gyroscope sensor, the PIMAX 4K VR headset also includes acceleration sensor, range sensor, light sensor, and magnetometer.
PIMAX 4K UHD Virtual Reality 3D Price and Availability:
The PIMAX 4K is available as low as $299.99 on GearBest as a limited time flash sale deal. Refer the below link for more details about the product.
Buy PIMAX 4K UHD VR Headset for $299.99