Quacomm announces Quick Charge 3.0, the next Generation of fast charging technology. The company claims that the Qualcomm Quick Charge 3.0 charging is 4X faster than the conventional charging. It has been made official along with Snapdragon 617 and Snapdragon 417 processors.
The handsets can be quickly charged up to 80% with in a time span of just 35 minutes using the latest Quick Charge 3.0. According to the company, the latest charging technology is 38% more efficient than Quick Charge 2.0 and twice to Quick Charge 1.0.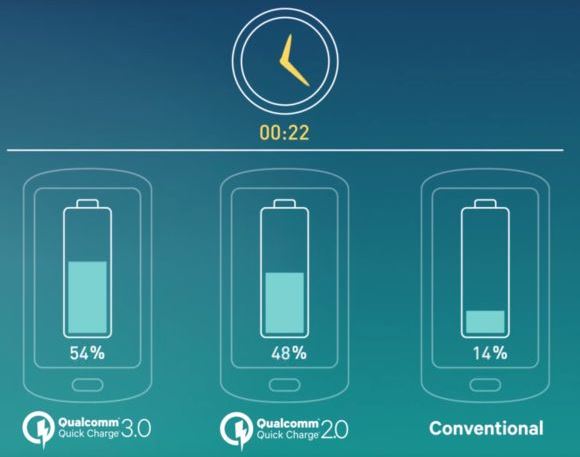 "Additional improvements offered by Quick Charge 3.0 include enhanced flexibility over Quick Charge 2.0, notably in terms of charging options. While Quick Charge 2.0 offers four charging voltages at 5V, 9V, 12V and 20V, Quick Charge 3.0 provides flexibility with 200mV increments from 3.6V to 20V. This allows the phone to request just enough voltage to reach the desired charge current, resulting in minimized losses, increased efficiency, and improved thermal performance", stated Qualcomm.
Compatible Snapdragon Processors for Quick Charge 3.0 Features:
The Snapdragon 820, 620, 618, 617 and 430 are the processors which will get the latest quick charging feature. But remember that, the devices already launched with this processor will not receive the update. The smartphones which would be announced in 2016 packs the latest feature.