As we all know Redmi Note 3 is the first Xiaomi smartphone to include a fingerprint scanner feature. This fingerprint feature will not only useful for unlocking the device, but also users can lock/unlock device various applications without any need to download any third-party App Locker. So, isn't it cool?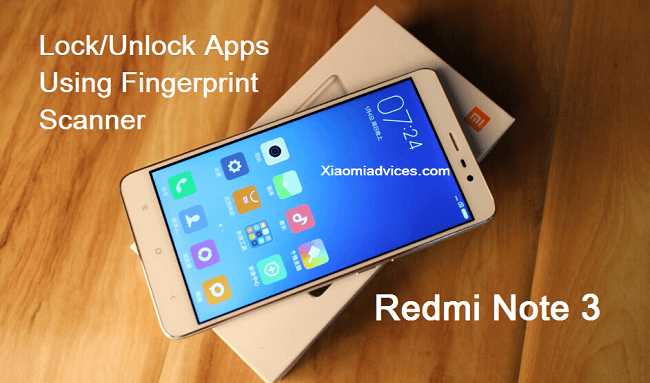 Just you need to follow the below quick guide to enable lock/unlock apps settings using fingerprint scanner on any Redmi Note 3 MIUI 7 smartphone.
Lock/Unlock Apps on Xiaomi Redmi Note 3 using fingerprint scanner
1. Firstly you need to setup fingerprint scanner on your Redmi Note 3 device. Check HERE for the simple guide.
2. Make sure the device is on MIUI 7.2.5.0 firmware or above.
3. Ensure "App Lock" option is enabled under Screen lock & fingerprint settings.
4. In this step, you need to setup Pattern Lock which acts as an alternative for Fingerprint scanner for unlocking the app. Just go to Settings > Additional Settings > Privacy > Privacy Protection > App Lock > and setup the pattern lock.
5. Then you will see the following notification "App Lock supports fingerprint unlock. Add fingerprint". Confirm the fingerprint by placing your registered finger on the scanner located at the back.
6. Now you need to select the apps which are to be locked on your device. For example you can select WhatsApp, Email, Contacts, Gallery, etc. as these are considered important for most of the users.
7. For some reason if you don't want the prompt to use fingerprint scanner for lock/unlock apps, then you can manually disable from the path Settings > Lock screen & fingerprint > Screen lock & fingerprint > Toggle off the Lock Screen.
That's the simple guide on how to lock/unlock apps on Redmi Note 3 using fingerprint scanner.
Do share the post with your friends using the below social buttons as this provides better security to the device. For more Redmi Note 3 tutorials, tips & tricks, do check HERE.