The Glance option on the lock screen is one of the most important customization options in MIUI. It is available for Mi phones only, and even though most people find this feature useful, many of them find it annoying.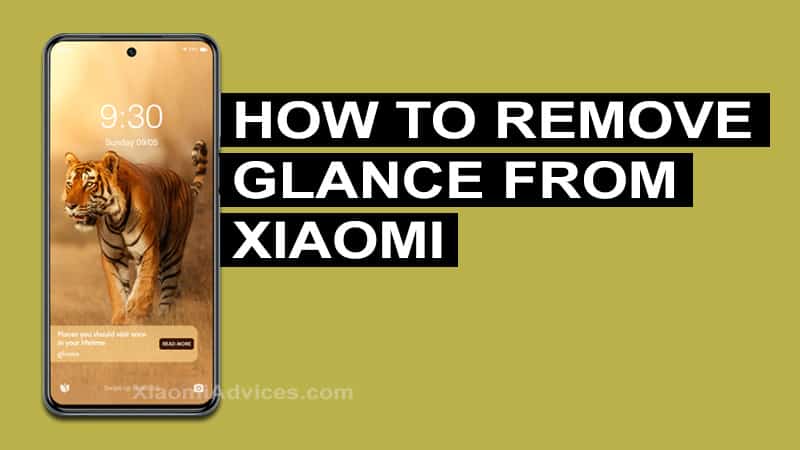 Many Mi Phone users do not know how to remove Glance feature from the lock screen on Mi phones, so they are unable to disable the feature even if they want to. The Glance app comes pre-installed with Glance for Mi phones to keep the device users engaged and informed.
What is Glance?
Glance is a feature for displaying a new wallpaper and an article every time you unlock the screen when connected to the internet. This feature is called Wallpaper Carousel. Mi smartphones come pre-installed with the Glance application, where you can see amazing wallpapers and interesting information on music, sports, entertainment, tech, tourism, etc.,
How to Disable Glance from Lock Screen in Mi?
Here are the steps to disable the wallpaper carousel from settings.
Open the Settings app on your Xiaomi phone.
Scroll down and tap on Lock Screen.
Tap on Glance for Mi or Wallpaper Carousel.
The Turn on option will be on by default.
Tap on the button to turn it off.
Uninstall Glance for Mi app
If you would never want to use the Wallpaper Carousel, you can also uninstall the Glance for Mi app.
Here are steps to uninstall the Glance app on your Mi Device:
Go to Google Play Store.
Search for "Glance for Mi" and click on it.
Click on Uninstall.
Or you can uninstall Glance for Mi from Settings:
Open the Settings.
Scroll down and tap on the Apps option.
Then Click on Manage Apps.
Scroll Down and look for the Wallpaper Carousel option,
Then click on Uninstall; that's it!
Congratulations! You have now successfully uninstalled the Glance for Mi or Wallpaper Carousel app from your device.
Is Glance for Mi or Wallpaper Carousel safe to disable?
Yes, we can disable or uninstall the Wallpaper Carousel. It is just an extra feature and would not affect the performance or functioning of the phone.
Some of the reasons why you should disable Glance for MI are as follows:
It consumes your internet.
It also consumes the phone's battery.
It may cause lag and stutters on the device.
Offer irrelevant content at times.
And it consumes space on your device.
I hope this helps you understand how to disable or uninstall Glance for Mi.
If you have any queries or suggestions, feel free to leave a comment below.