Sometimes, it's quite necessary to perform a factory reset of your device. For example, if you're facing lagging issues, or wanted to revert back to factory settings, then it's always a great discussion to perform a reset. It is a simple process and every smartphone user can do it by themselves. But those who finds it difficult, here we have tutorial on how to soft/hard reset Xiaomi Mi5/Mi5c/Mi5s.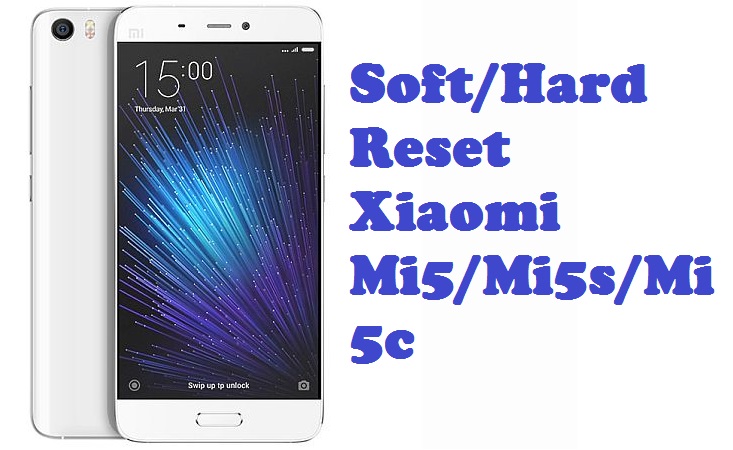 Before starting the reset process, make sure it erases everything from your device storage including apps data, settings, contacts, call history, media files, and many other things. So, it is highly advisable to perform backup of all your important data. Also ensure you have enough battery level to complete the reset procedure. Also how to install TWRP recovery & root Xiaomi Mi5s
How to Reset Xiaomi Mi5/Mi5s/Mi5c
1. Firstly, you need to turn off your device by long pressing the Power button.
2. To be on safe side, remove the SD card and SIM card from the phone.
3. Boot your device into Recovery mode. To do so, press and hold Power and Volume Down button until you see mi logo on your device display. Release the buttons once you've seen it.
4. In the step select English using Volume keys to browse and Power rocker to select.
5. Now you need to select Wipe & Reset > Wipe All Data using Power button.
6. Confirm the factory reset by selecting "Yes".
7. Once done, the phone reboots into normal mode.
Congrats! You have successfully performed hard reset on your Xiaomi Mi5/Mi5s/Mi5c.
Related: Mi5 vs Mi5s vs Mi5s Plus – Battle of top Xiaomi smartphones
Soft Reset Xiaomi Mi5/Mi5c/Mi5s
Apart from performing factory reset through recovery, you can also try the following soft reset process. Here, the phone can be restored to factory settings directly from main settings.
On your phone launch Settings > Backup & Reset > Factory data reset > Reset phone and finally choose Erase everything.
That's it! Now you have achieved factory settings on your device. To know, the same process can also be followed to reset any Xiaomi MIUI 8 smartphone. Also check Android 7.0 Nougat update for Xiaomi Mi5/Mi5s/Mi5c.