Take Screenshot on MIUI phones: Xiaomi, the popular smartphone manufacturing company is well known for launching good quality phones at reasonable pricing. Currently it is the World's third biggest smartphone distributor. Many users have purchased Xiaomi phones and doesn't known how to take screenshot, so here we shared simple tutorial to perform Screen capture. This produce is compatible with various Xiaomi phones like Mi Mix, Mi3, Mi4, Redmi Note, Redmi 2, Redmi Note 4G, Mi Note 2, Redmi Note 3 (Pro), Mi4i, Mi4c, Mi Pad 2 and Mi5/Mi5s.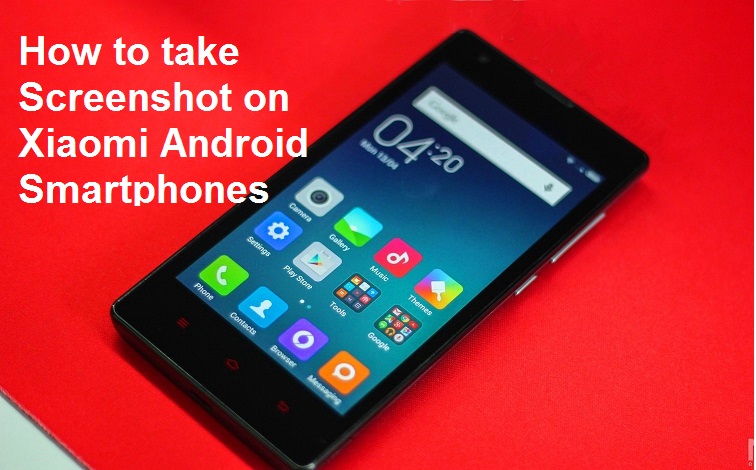 How to take Screenshot on Xiaomi Mi and Redmi Android Phones:
Screenshot on Xiaomi Android phones can be easily taken with two different methods- 1. Hardware buttons and 2. Using Notification Menu. Let's have a look on both the methods.
Method 1: Using Hardware buttons:
Taking screenshots on Android phones using hardware buttons is one of the oldest and popular methods. Just locating the hardware buttons and pressing as said below can capture screen of your device. The following is the easy guide to perform screenshot using hardware button-
1. Choose any screen whose screenshot has to be taken.
2. Locate the hardware buttons- Power and Volume down on your smartphone.
3. Next press both the buttons together until you hear any camera shutter sound.
4. Now the screen flickers stating that the screenshot has been successfully taken.
5. Just open Gallery of your device to view the screenshot.
Method 2: Using Menu Option:
Screenshot using the menu option is one of the simple process to perform screenshot. This menu options is not available for all Android phones apart Xiaomi.
1. Firstly select any screen which you like to take screenshot.
2. Now drag notification bar from top to bottom and find Toggles.
3. Next locate the screenshot icon.
4. Simply tap on the icon to perform screenshot.
So above are the two simple methods to take screenshot on Xiaomi Android phones. Users can also download third party Screenshot apps from Google Play Store for taking screen capture.