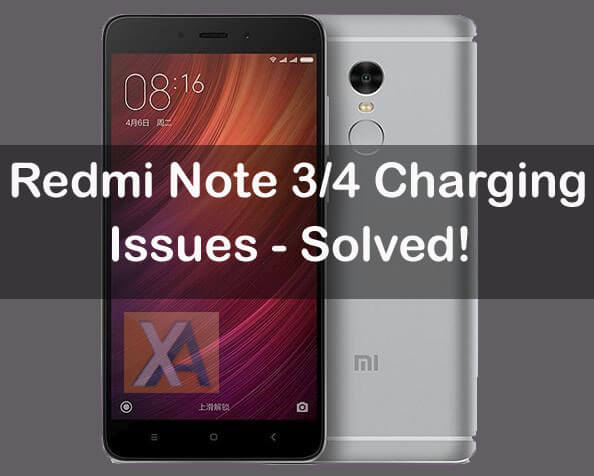 Xiaomi Redmi Note 3 and Redmi Note 4 are the most successfully models of the company in the mid-range segment. The Redmi Note 3 was announced early last year and Redmi Note 4 is the upgraded variant launched this year. Users who have purchased any of these Xiaomi models are reportedly facing Charging issues. They are no longer able to charge their handset. For all those users, here we have shared a simple guide which lets you solve Xiaomi Redmi Note 3/4 not Charging issues.
How to Fix Xiaomi Redmi Note 3/4 Not Charging Problem
There are several factors creating charging issues on your Xiaomi Redmi Note 3/4. Here we have shared complete solutions to fix the issue.
Solution 1: Reset your device to Factory Settings
Resetting your smartphone to factory settings is the most efficient way to fix charging issues on your Xiaomi mobile. With a factory reset, it will delete all the installed applications which were eating away your battery juice. Apart from fixing charging issues, factory reset also lets you fix other smartphone problems like heating issues, network issues, lagging issues and more.
To perform Redmi Note 3/4 factory reset, turn off your mobile and enter into Mi recovery by pressing & holding Volume Up + Power buttons simultaneously. From main menu, choose Wipe & Reset > Wipe All Data and confirm. That's it. You have successfully restored your mobile to factory settings. You can also follow our simple guide on how to hard reset Xiaomi Redmi Note 4.
Solution 2: Install Battery Saving Apps
There might be some cases where your device might be charging very slowly or it might not be charging at all. It doesn't mean that your battery is a dud or that the charger has conked off on you. For this kind of causes, it doesn't mean that something is wrong with your device hardware. Users can simply install third-party Battery Saving apps to fix the issues.
Also How to Remove Pattern/PIN Lock on Xiaomi Redmi Note 4
Solution 3: Flash Custom ROM/ International ROM/ Chinese ROM
If factory reset and installing battery saving apps doesn't worked for you, then try flashing Custom ROM or International Chinese MIUI ROM on your Mi device to fix battery not charging issue. Custom ROM are fun brining lots of new features compared to stock firmware.
Solution 4: Use Mi PC Suite to install latest version of MIUI ROM
Mi PC Suite is an official Mi Device desktop client which lets you perform backups, manage photos & videos, access Contacts, and more. Apart from this, the app also lets you flash latest MIUI software on your Xiaomi smartphone. Simply boot your device into Fastboot mode and then connect it to PC using a USB cable. On the Mi PC Suite software, click on 'Update'. As latest version of ROM brings bug fixes to its previous version, the Charging issues will most probably solved. Download Xiaomi Mi PC Suite latest version here.
Solution 5: Visit nearest Xiaomi Service Centre
If none of the above solutions worked for you in fixing Xiaomi Not Charging issues, then there is no other way apart from taking your handset to nearest service centre. There might be problem on your Motherboard which will be creating issues. Service centre will replace the Redmi Note 3/4 motherboard for free if it's under warranty. List of Xiaomi Service Center.
Do let us know which among the above solution worked for you in fixing Redmi Note 3/4 not charging problems by commenting below. Don't forget to share the post with your friends on social media like Facebook and Twitter and let them overcome the issue.