UC Browser has been updated to latest version 10.7.0 which brings lots of new features. It is the widely used mobile browser all over the world. UCWeb, the developer of the app is always on its toes to bring timely updates which includes new features and functions. The app is compatible with Android version 2.3 and above.
Do check out the top 10 features of UC Browser 10.7.0 and then click on direct download link to get the APK file.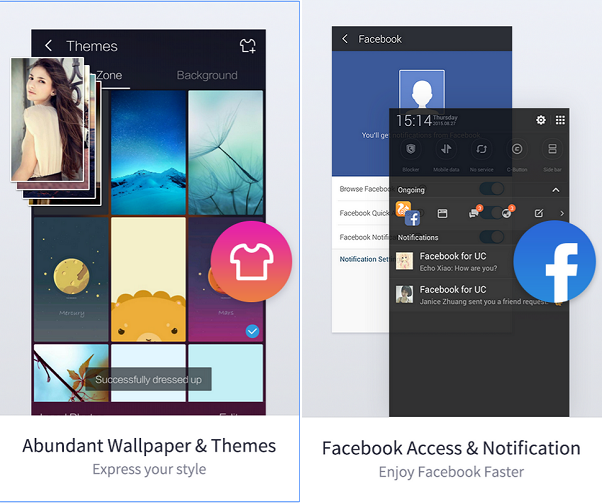 Top Features of UC Browser 10.7.0:
1. In-App Widgets (Cards)
With a feature called cards, users can access content on a new customizable homepage. The cards can be easily customized according to your own liking.
2. Cloud Boost Technology
This feature helps to increase the browsing speed of on your UC Browser when internet connection is over data rather than WiFi. It will be useful over WiFi when the speed is too slow.
3. Download Manager
With the advanced Download Manager on your UC Browser, user can set the designated folders where the files are to be saved and also it enables or disables auto reconnect in case a file download fails.
4. Night Mode
The Night Mode feature helps to maintain the low light on the screen which is liked by most of the users when they are using the browser when the room light is off. This will reduces the amount of hard lighting hitting your naked eyes.
5. Ad Blocker
Ad Blocker, the name itself suggests blocking of various pop-up, pop-under ads, text ads and banner ads for smooth browsing experience.
6. Customisation
7. Quick Access
8. Gestures
9. Text Only Mode
10. Facebook Mode
UC Browser APK
How to install UC Browser APK on Android Phones:
1. Download UC Browser APK latest version from the above link.
2. Connect your smartphone with PC and transfer the same to storage of your device.
3. Open any file explorer and locate the APK file. Tap on it and follow the on-screen instructions.
4. Launch the app from the App Drawer. Enjoy!