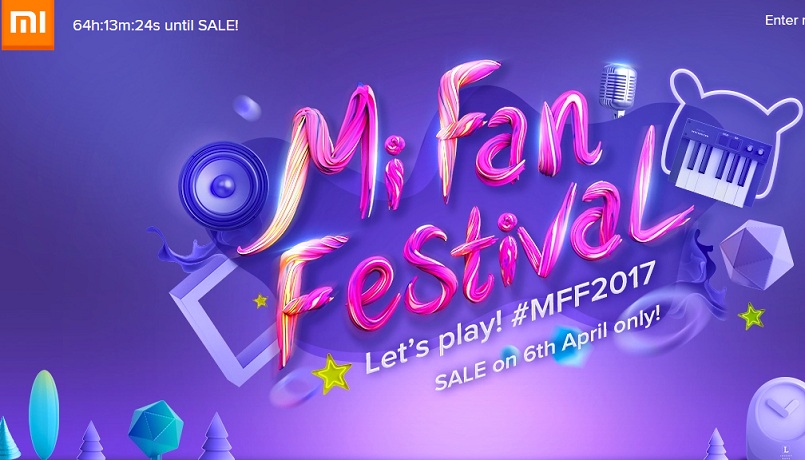 Xiaomi is celebrating its seventh birthday by holding Mi Fan Festival in several countries including India on April 6th. On this day, Xiaomi puts lot of devices and accessories on sale on the Mi.com site. The Chinese smartphone vendor will also hold Rs. 1 flash sale of its various products on the along, along with several other bungle offers and products sale.
At first, Xiaomi will conduct Re 1 flash sale where users have the luck to buy Redmi Note 4, Mi Band 2 and 10000mAh Mi Power bank for just Re 1. It is an app only sale so you need to download the Mi Store app on your device and register to be a part. This sale will begin at 10am IST where 20 units of Redmi Note 4 will be available for grabs. Another sale will begin at 2pm IST where you can try your luck to get Mi Band 2 and 10000mAh Mi Power Bank for just Re 1. There will be a total of 40 Mi Band 2 and 50 10000mAh Mi Power Banks during the flash sale.
The Mi Fan Festival sale will also include sale of Redmi 4A Rose Gold variant and Redmi Note 4 for Rs. 5,999 and Rs. 9,999 respectively. Both the devices have great sales figures in its previous flash sales. Xiaomi has already started selling the Redmi Note 4 through offline stores in India as many people fails to complete the order online. Apart from these devices, there will be also Redmi 3S Prime, Mi Max Prime, and the Xiaomi Mi 5 on sale on the Mi.com website. On a purchase of Redmi 3S Prime, Xiaomi is offering Rs. 100 off on the soft case (which is priced at Rs. 349), and there is also zero percent interest EMI on the purchase of the Mi Max Prime.
Apart from smartphones, Xiaomi is also offering huge discounts on its various accessories. You will get flat Rs. 500 off on a purchase of air purifier, earphones, VR Play, Mi Band, and more. Refer the following for complete Mi Fan Festival sales offer on Xiaomi accessories –
Mi Air Purifier 2 – Rs. 9499 (Rs. 500 off)
Mi VR Play – Rs. 999 (Rs. 100 off)
20000mAh Mi Power Bank – Rs. 2199 (Rs. 200 off)
10000mAh Mi Power Bank – Rs. 1199 (Rs. 100 off)
Mi In-Ear Headphones Pro – Rs. 1599 (Rs. 200 off)
Mi Air Purifier 2 + Air Purifier Filter bundle – Rs. 10,998 (Rs. 1500 off)
Bluetooth Speaker + Selfie Stick + In Ear Headphones Basic Matte bundle – Rs. 3497 (Rs. 300 off)
Mi In-Ear Headphones Pro HD + 10000mAh Power Bank Pro bundle – Rs. 3,498 (Rs. 500 off)
Standard Adapter + USB Cable + 20000mAh Power Bank bundle – Rs. 2,497 (Rs. 300 off)
Mi Band 2 + Mi Capsule Earphones bundle – Rs. 2598 (Rs. 400 off)
Check out all the offers on Mi India site here.
Which one the above accessories are you planning to buy for your Xiaomi smartphone? Comment below.