Xiaomi announced that it will start rolling out MIUI 7 update to its Mi devices (global and China) starting from October 27. But according to the source, the Xiaomi Mi4 users already started receiving MIUI 7 update via OTA (over-the-air). The Mi4 is the company flagship smartphone and spotted in the list of Xiaomi devices receiving MIUI 7 update. The reports also claims that only the LTE version of the Mi4 is getting the update, no words on 3G variants. So, the MIUI 7 update takes certain time to hit all the devices and models.
So, it's the Mi4 users who can experience the MIUI 7 first compared to other devices users. The MIUI Forum claims that the stable version of MIUI 7 will be rolled out together for both Global as well as Chinese variants. The update brings the version MIUI 7 7.0.5.0 (KXDMICI) with build number KTU84P and baseband version MPSS.DI.3.0-8698a4d. The total file size of the update is 666MB.
Download MIUI 7 7.0.5.0.KXDMICI ROM for Mi 4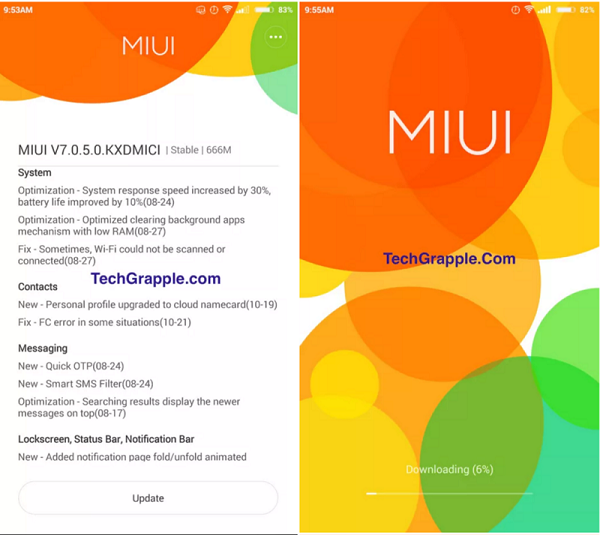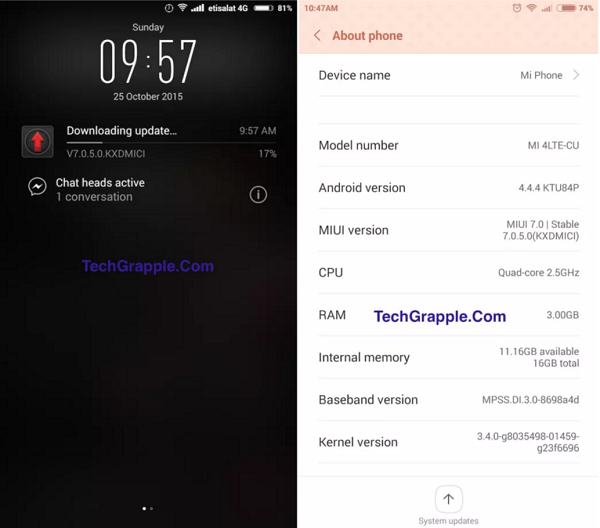 The Mi4 users little disappointed to hear that the device continues to run on Android KitKat after the MIUI 7 update. So, users cant taste the materialistic Lollipop based OS. The company already clarified that its latest MIUI 7 ROM brings Lollipop OS to its few devices while the other handset will struck on KitKat OS like in the case of Mi4. But never-the-less the MIUI 7 will provide you the better experience compared to MIUI 6.
Xiaomi Mi4 MIUI 7 7.0.5.0 KXDMICI OTA update Changelog, Features:
30% faster system performance
10% better battery life
Better RAM management
Improved WiFi connectivity
New Themes and Wallpapers
Child Mode
Improved UI and Notifications
ShowTime feature
Own any other model or Mi4 3G, then do let us known in case you received MIUI 7 OTA update.