Xiaomi Mi4S is the latest mid-range smartphone launched by Xiaomi last week along with company 2016 flagship, the Mi 5. The smartphone runs on Android 6.0 Marshmallow OS out of the box and features fingerprint scanner for better security purposes. With 5-inch display, the Mi4S is a best alternative for Mi4c and Mi4i. So, here we came up with detailed comparison overview of Xiaomi Mi4S vs Mi4C vs Mi4i.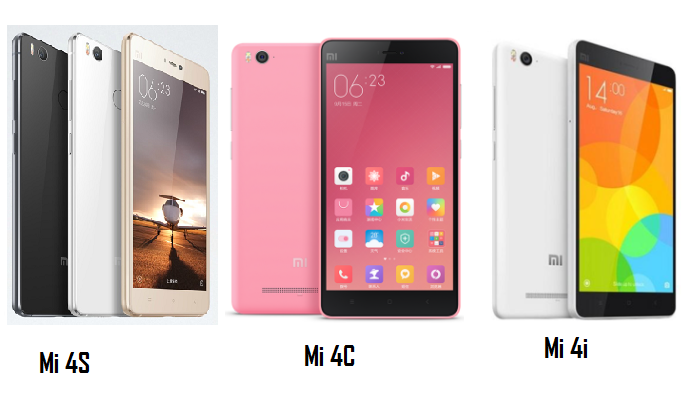 Display and Processor
Coming to display, all the three devices sports the similar 5-inch display with pixel density of 441 ppi and 1080 x 1920 pixels screen resolution. The Mi4s and Mi4c are powered with Snapdragon 808 Hexa-core processor while the Mi4i includes Snapdragon 615 octa-core CPU.
Related Content: Compare Xiaomi Mi5 vs Mi4 vs Mi4s
Camera and Storage
All these 5-inch devices sports a 13-megapixels rear facing camera and 5-megapixels front facing camera. The Mi4s has 64GB of in-built memory with microSD card slot while the Mi4c and Mi4i comes in 16GB/32GB storage options without any microSD card slot.
Battery and Connectivity
The connectivity features includes WiFi, Bluetooth, GPS and 4G. The Mi4s has dual SIM support and is powered with 3260mAh battery. The Mi4c and Mi4i are packed with 3080mAh and 3120mAh battery capacity respectively.
Xiaomi Mi4S vs Mi4C vs Mi4i – Comparison of specs, features
| | Xiaomi Mi4S | Xiaomi Mi4C | Xiaomi Mi4i |
| --- | --- | --- | --- |
| Display | 5-inch | 5-inch | 5-inch |
| Resolution | 1080 x 1920 pixels | 1080 x 1920 pixels | 1080 x 1920 pixels |
| Pixels Per Inch (PPI) | 441 | 441 | 441 |
| Processor | Snapdragon 808, Hexa-core | Snapdragon 808, Hexa-core at 1.8GHz | Snapdragon 615, octa-core at 1.7GHz |
| RAM | 3GB | 2GB/3GB | 2GB |
| OS Version | Android 6.0 (MIUI 7) | Android 5.0 (MIUI 7) | Android 5.0 (MIUI 7) |
| Internal Storage | 64GB | 16GB/32GB | 16GB/32GB |
| Memory Card support | Yes | No | No |
| SIM Type | Dual SIM | Single SIM | Dual SIM |
| Primary Camera | 13-megapixels | 13-megapixels | 13-megapixels |
| Secondary Camera | 5-megapixels | 5-megapixels | 5-megapixels |
| WiFi | 802.11 a/b/g/n/ac | 802.11 a/b/g/n/ac | 802.11 a/b/g/n/ac |
| Other Connectivity | Bluetooth, GPS, 4G | Bluetooth, GPS, 4G | Bluetooth, GPS, 4G |
| Fingerprint Sensor | Yes | No | No |
| Dimensions | 139.26 x 70.76 x 7.8mm | 138.1 x 69.6 x 7.8mm | 138.1 x 69.6 x 7.8mm |
| Weight | 133g | 132g | 130g |
| Battery | 3260mAh | 3080mAh | 3120mAh |
| Release Date | February 2016 | September 2015 | April 2015 |
Xiaomi Mi4S vs Mi4C vs Mi4i – Buy Online