After many rumours and leaks, Xiaomi finally announced the Mi5 on a special event in China last week. The company also showcased the smartphone at the Mobile World Congress 2016 which was also held last week. Xiaomi has kept the display size of the Mi5 to 5.15-inch with a hardware home button at the bottom. It is the first time Xiaomi came up with a hardware button with fingerprint scanner inserted on it. Powered with Qualcomm Snapdragon 820 chipset, Xiaomi claims the Mi5 is one of the most powerful Android smartphone on the globe. We have already posted the comparison overview of Xiaomi Mi5 vs Galaxy S7 vs LG G5 which also features Snapdragon 820 CPU.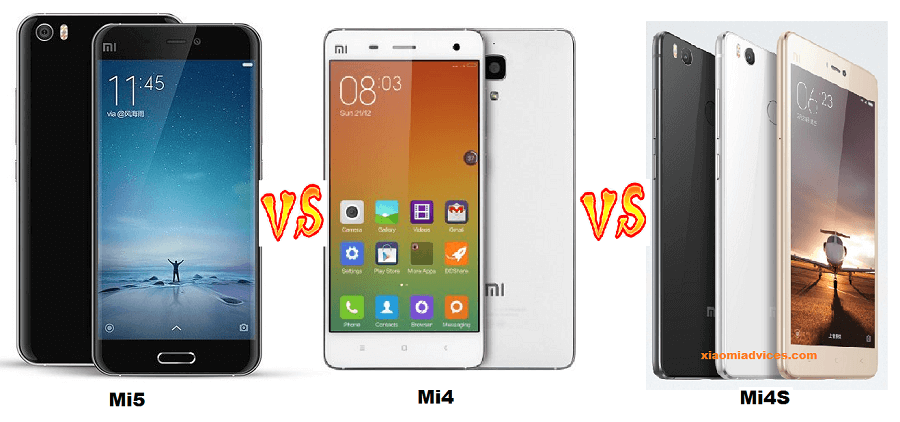 In this post we are going to compare the Mi5 with Mi4 which is also company flagship and Mi4s which was launched along with Mi5 at the same event in China. Proceed below for comparison of Xiaomi Mi5 vs Mi4 vs Mi4s.
Related content: Compare: Xiaomi Mi5 vs Mi4c vs Mi4i
Display, processor and RAM
Considering the display, the Mi5 sports a little bigger display of 5.15-inch while the Mi4 and Mi4s sports a 5-inch display respectively. All these devices has the same 1080 x 1920 pixels (Full HD) screen resolution.
The Mi5 is powered with Qualcomm Snapdragon 820 2.15GHz dual core processor coupled with 4GB/3GB of RAM and comes in 32GB/64GB/128GB storage options. The Mi4 includes 2.5GHz quad-core Snapdragon 801 CPU with 3GB of RAM and has 16GB/64GB storage options, the Mi4s is powered with Snapdragon 808 Hexa-core processor coupled with 3GB RAM and 64GB of internal storage. Only the Mi4s has the microSD card slot for further memory expansion.
Camera and Operating System
The Mi5 sports a 16-megapixels shooter while the Mi4 and Mi4s comes with 13-megapixels with LED flash. All these devices runs on Android 6.0 Marshmallow with MIUI 7 on top and includes various connectivity features like 4G, WiFi, Bluetooth, and GPS.
Xiaomi Mi5 vs Mi4 vs Mi4s – Comparison of specs, features, size, camera
| | Xiaomi Mi5 | Xiaomi Mi4 | Xiaomi Mi4S |
| --- | --- | --- | --- |
| Display | 5.15-inch | 5-inch display | 5-inch |
| Resolution | 1080 x 1920 pixels | 1080 x 1920 pixels | 1080 x 1920 pixels |
| Pixels Per Inch (PPI) | 428 | 577 | 441 |
| Processor | Snapdragon 820, dual-core at 2.15GHz | Qualcomm Snapdragon 801, quad-core at 2.5GHz | Snapdragon 808, Hexa-core |
| RAM | 4GB | 3GB | 3GB |
| OS Version | Android 6.0 (MIUI 7) | Android 4.4.4 (Upgradable Marshmallow) | Android 6.0 (MIUI 7) |
| Internal Storage | 128GB | 16GB/64GB | 64GB |
| Memory Card support | No | No | Yes |
| SIM Type | Dual SIM | Single (Micro) | Dual SIM |
| Primary Camera | 16-megapixels | 13-megapixels | 13-megapixels |
| Secondary Camera | 4-megapixels | 8-megapixels | 5-megapixels |
| WiFi | 802.11 a/b/g/n/ac | 802.11 b/g/n/ac | 802.11 a/b/g/n/ac |
| Other Connectivity | Bluetooth, GPS, 4G | Bluetooth, GPS, 4G | Bluetooth, GPS, 4G |
| Fingerprint Sensor | Yes | No | Yes |
| Dimensions | 144.6 x 69.2 x 7.3mm | 139.20 x 68.50 x 8.9mm | 139.26 x 70.76 x 7.8mm |
| Weight | 129g | 156g | 133g |
| Battery | 3000mAh | 3,080 mAh | 3260mAh |
| Release Date | February 2016 | July, 2014 | February 2016 |
Xiaomi Mi5 vs Mi4 vs Mi4s – Buy Online
Xiaomi Mi5 – BUY ONLINE
Xiaomi Mi4 – BUY ONLINE
Xiaomi Mi4S – BUY ONLINE