After Mi4 and Mi Pad 2 supporting Windows 10, now it seems Microsoft will soon release Xiaomi Mi5 Windows 10 version. Xiaomi Mi5 is company flagship just announced couple of days ago. With this Mi5 becomes third in the list of Xiaomi devices supporting Windows 10 OS.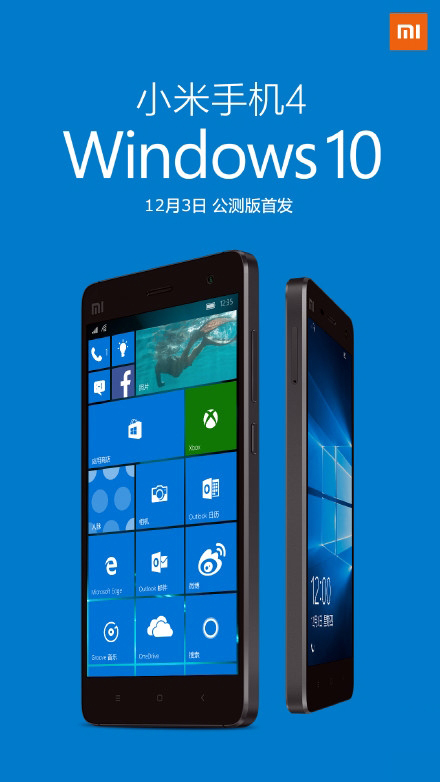 Microsoft rolled out Windows 10 OS for Mi4 back in December last year and now the same developer teams are working to bring the same OS to Mi5. If this happens, then Xiaomi Mi5 would be the World's powerful Windows 10 smartphone coupled with Qualcomm Snapdragon 820 processor and up to 4GB of RAM.
Xiaomi latest tablet, the Mi Pad 2 was also launched in two different versions – Windows 10 and Android OS. So, now the rumours of Mi5 also started indicating a Windows 10 version in the next coming days. Apart from this, many speculations are also indicating that Xiaomi instead of launching Windows 10 variant, the Mi5 users can directly switch to Microsoft OS through its ROM.
The only Lumia devices (at the time of writing) that runs on Windows 10 are Lumia 950, 950 XL, 550 and 650. The rumours also claims that the company is currently working on new flagship smartphone.
Not only Xiaomi, the same rumours also indicates Windows 10 rom being brought to OnePlus 2 and upcoming OnePlus 3 which might be unveiled somewhere in June this year.
Share your thoughts on the above news with the help of comment below.
Xiaomi Mi5 with Android 6.0 Marshmallow OS is available for pre-order on GearBest starting from $439.99.