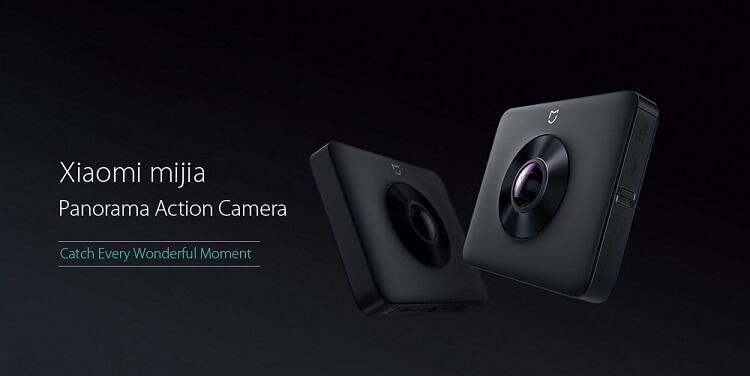 Xiaomi always proved that it's the company not only limited to smartphones but also popular for announcing various other gadgets including cameras, smart home accessories, and other computer gadgets. Xiaomi expanded its portfolio further by introducing its first 360-degree action camera dubbed as Xiaomi Mijia 3.5K Panorama. Though the camera features a sophisticated design and high-end specifications, it only cost a fraction of the market cameras.
Currently, GearBest is conducting flash sale of Xiaomi Mijia 3.5K Panorama Action Camera which brings the price down at $245.99. This deal makes 10% off of its regular price tag. Before we take you to the deal, let's have a quick glance at the specifications and features of Xiaomi Mijia 3.5K Panorama Action Camera. Buy Xiaomi Mi 5C at Cheapest Price
Xiaomi's latest 360-degree Panorama camera comes with two fisheye lens, which allows taking 360-degree full-angle images. It has 16-megapixels camera sensor, but one can interpolate up to 23.88MP for better pictures. The camera capture pictures with a resolution of 6912 x 3456 pixels, thus we're dealing with a camera having 7K imaging level. Apart from this, the Xiaomi Mijia 3.5K is also capable of shooting videos at 3.5K resolutions.
Also, the device includes three different shooting modes, namely, Flat mode, Sphere mode, and Planet mode. With these modes, you can add creatively to your photos. It has built-in 6-axis electronic image stabilization (EIS) feature to capture great photos, even there is a lot of shaking.
Of Couse, the Xiaomi Mijia 3.5K Panorama action camera features a microSD card slot and it supports up to 128GB maximum. Another highlight of the device is its IP67 ratings for dust proof and water proof resistance.
Most importantly, it is packed with a built-in 1600mAh battery that promises 75 minutes shooting time at 3.5K with WiFi turned on. But, if you want additional 20 minutes of backup, make sure to disable the WiFi connectivity. It has microUSB port for charging and supports Quick Charge 2.0 technology. Under the hood, it includes Ambarella A12 chipset which is responsible for automatic adjustments of the photos.
Buy Xiaomi Mijia 3.5K Panorama Camera at $245.99