Xiaomi recently launched a new smartphone in India, i.e., the Xiaomi Redmi Note 3 starting from Rs. 9,999. It comes with 5.5-inch Full HD display, powered with Qualcomm Snapdragon 650 64-bit 1.8GHz hexa-core chipset and runs on Android 5.1.1 Lollipop OS with MIUI 7 on top. The device comes with 16GB/32GB of internal storage which can be expandable to 32GB using a microSD card. It sports a 13-megapixels rear camera with LED flash and 5-megapixels Selfie shooter. If you're one among those who is purchasing the Redmi Note 3 phone, then here we have few tips, tricks, & FAQs which will help you in exploring your device.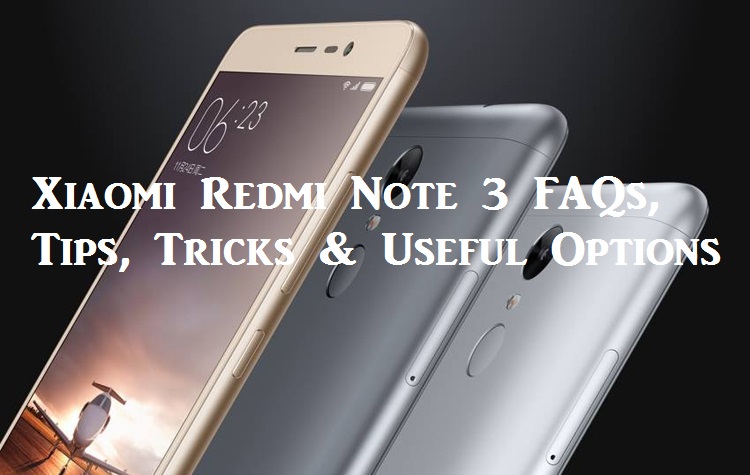 Note: The following are the FAQs for Redmi Note 3 (Pro) Snapdragon 650 variant
Xiaomi Redmi Note 3 FAQs, Tips, Tricks & Useful Options
How many variants of Redmi Note 3 are there?
There are two different variant of Redmi Note 3 – 2GB RAM + 16GB internal storage and 3GB RAM + 32GB internal storage.
How much time it takes to unlock the device using fingerprint scanner?
The smartphone can be unlock within 0.3s.
Does Xiaomi Redmi Note 3 comes with locked Bootloader?
Yes, it will be shipped with locked bootloader?
Where to find the IMEI no?
There are three ways to find IMEI number on your device.
From the device package box
By removing battery, you will find the IMEI number printed on the back.
Dial *#06# is another way.
On which MIUI and Android version does the Redmi Note 3 runs out of the box?
The device runs on MIUI 7 on top of Android 5.1.1 Lollipop OS.
How to determine a fake Redmi Note 3 device?
Simply by just checking the IMEI code & S/N code.
How many color options are there?
The Redmi Note 3 comes in three different color options – Gold, Silver, and Dark Grey.
Does Redmi Note 3 have Quick Charge feature?
Yes, it supports quick charge technology (5V 2A).
Does it have dual SIM support?
Yes, it supports one micro SIM and another nano SIM. It is compatible with all the following networks – 2G/3G/4G (LTE).
How to take Selfie using Fingerprint scanner?
Xiaomi recently rolled out MIUI 7.2 update which brings options to take Selfie using Fingerprint scanner. (simple guide)
Does Redmi Note 3 has Gorilla Glass 3 protection?
No, but there is similar kind of protection by Corning.
Does Redmi Note 3 has support for OTG?
Yes, pen drives can be easily connected to device via OTG cable.
How to take a Screenshot on my Xiaomi Redmi Note 3?
There are two ways to take screenshot on Xiaomi Redmi Note 3.
Method 1: Using the hardware buttons
To take a screenshot, you need to press and hold Power button + Volume down button together.
Method 2: From notification panel
Xiaomi has included a screenshot shortcut in the notification panel in its latest MIUI 7 ROM. So, all the Redmi Note 3 users can capture the screen right from the notification panel. You can also check here for Redmi Note3 Screenshot tricks.
How much storage is available to the user of Redmi Note 3?
Out of 16GB internal storage, around 11GB will be available to the user.
How much free RAM is available after a reboot?
For a 3GB variant, about 1.95GB RAM will be free while in 2GB variant around 1.04GB free RAM available after a fresh boot.
Does the device have microSD card slot?
Yes, there is a microSD card slot for memory expansion.
How to fix Redmi Note 3 auto rotate screen is not working?
Just reboot the device and the issue will be fixed.
How to turn off Flash light blinking while call receive?
Just go to Call settings > Incoming call settings > turn off Flash notification when ringing.
Is there any Mi PC Suite for the device?
Yes, there is official Mi PC Suite (Phone Manager) for Redmi Note 3.
Whatsapp stops receiving message while Xiaomi Redmi Note 3 is in a sleep mode?
1. Go to Security > Permission > Autostart > Now Enable WhatsApp "Auto-start" or Add any app to Auto-start.
2. Go to Settings > Notifications > Manage Notifications > Open WhatsApp > Enable Allow notifications.
3. To enable push notification in the status bar, go to "Settings" >> "Notifications" >> "Manage Notifications" >> Open WhatsApp >> Enable "Show floating notifications".
How to share your Data network via Tethering on the device?
The mobile data can be easily shared with your friends using the tethering mode on your device. To share data, just enable the Mobile hotspot from settings. You can also set password and the SSID name by just tapping on More button located at the top of the screen.
What are the sensors provided in Xiaomi Redmi Note 3?
The sensors include Fingerprint sensor, Electronic compass, Accelerometer, Proximity sensor, Hall sensor, Gyroscope, Ambient light sensor, Infrared sensor, and Digital compass.
Does the phone have LED Notifications?
Yes, there is a LED Notification light.
How to install external apps with apk files on the device?
Android OS is designed is such a way that it doesn't allows easily to install any third party app without user permission. So, make sure to enable Unknown Sources from settings before installing any application. Once enabled, you can install any app with an external apk on your handset.
How is the gaming performance of the phone?
The Redmi Note 3 plays games with a decent performance, and games like NFS Most Wanted, Asphalt 8, Dead Trigger 2, Real Racing, and such games played without any lags of frames being dropped.
How to install Google Play Store on Xiaomi Redmi Note 3?
Check the link HERE
For more Redmi Note 3 tutorials, do visit HERE.
The above are the general question on the mind of every user before purchasing a new smartphone. If your query is not listed above, then do share to us in the below comment box. Do share the post with friends using the below social buttons and let them get the complete details about the smartphone.