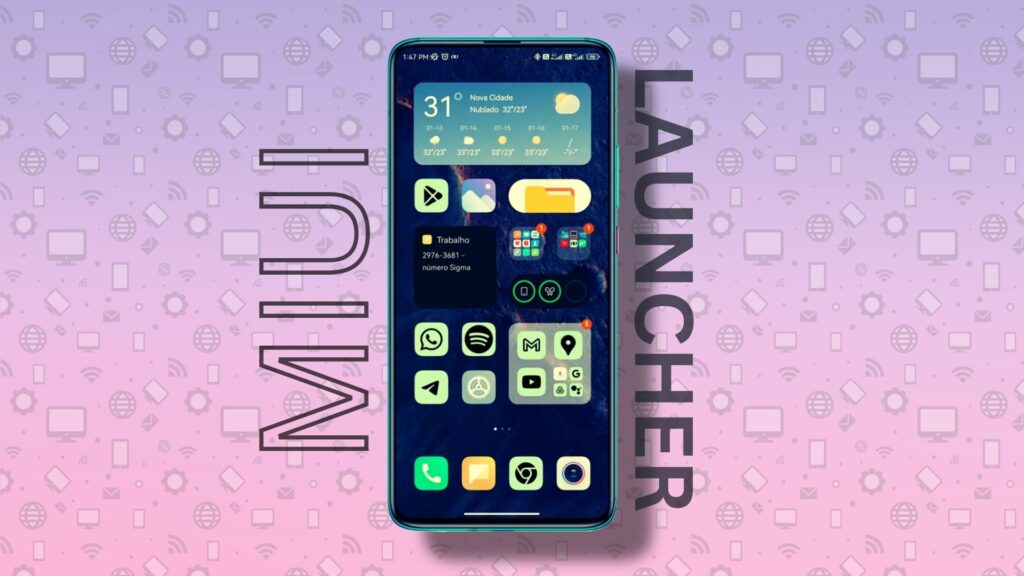 The MIUI Launcher by Xiaomi is a popular Android launcher app with a user-friendly interface and customizable options. It aims to provide a clean, organized interface to enhance user experience. This article highlights some of the critical features and provides links to download Xiaomi MIUI System Launcher APK.
MIUI Launcher (Xiaomi System Launcher) Features
In this section of the article, we will explain all the features to the best of our knowledge.
Folders
In the MIUI Launcher version 14, users can set a widget-sized folder size.
HomeScreen
The Xiaomi system Launcher's Home Screen is easy to understand, with few complicated features. It allows basic customization options like any other launcher app.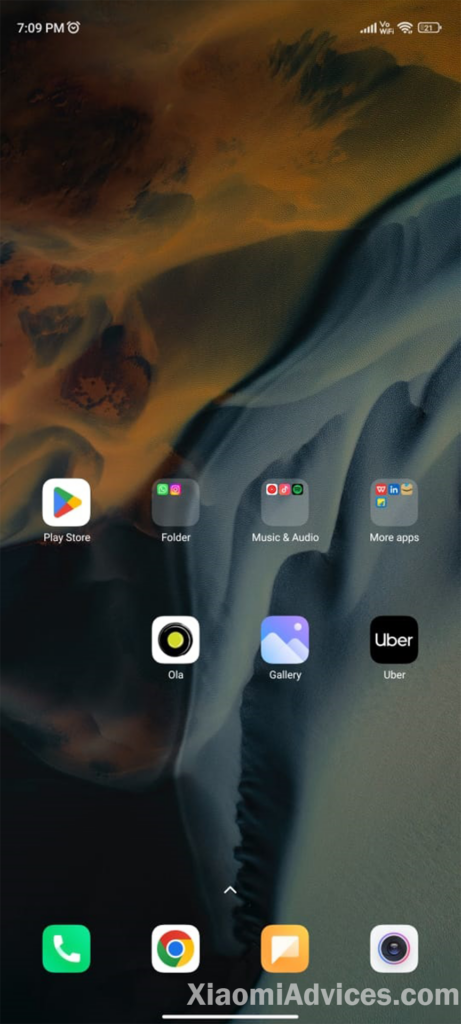 Edit
The Edit Mode in MIUI Launcher allows you to move many icons simultaneously, making editing easy. You can shake your device while in edit mode to organize all your icons.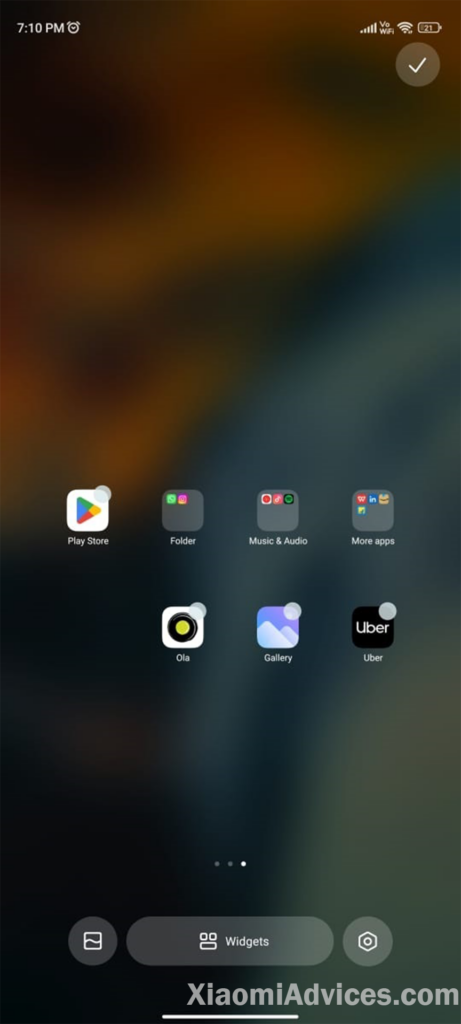 To access the Edit Mode, hold a space on the home screen or make a zoom-out gesture on the home screen.
Xiaomi System Launcher Settings
There are two types of settings available: one is a small pop-up that shows commonly used options and another page that contains all settings options.
Pop-Up
Here are the options available in the small pop-up of MIUI Launcher's settings: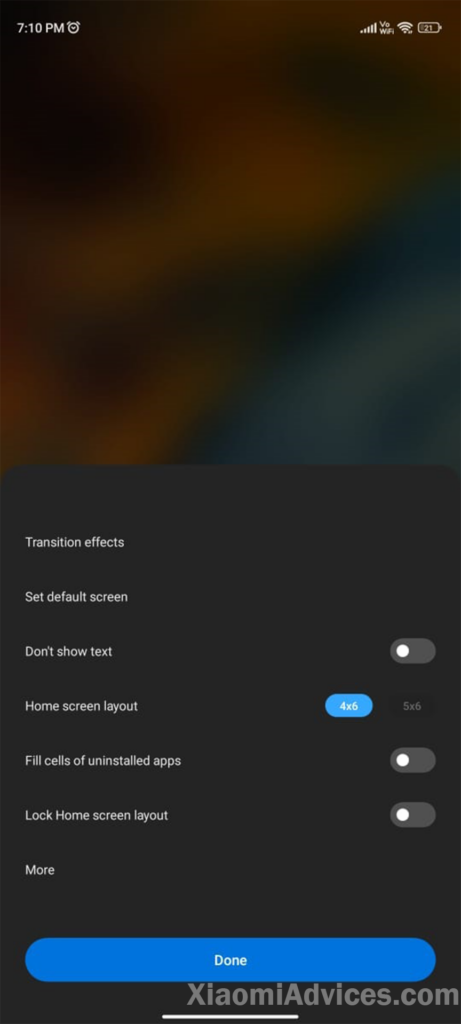 Transition effects
Users can change the animation when they slide between pages on the home screen by selecting the "Transition effects" option.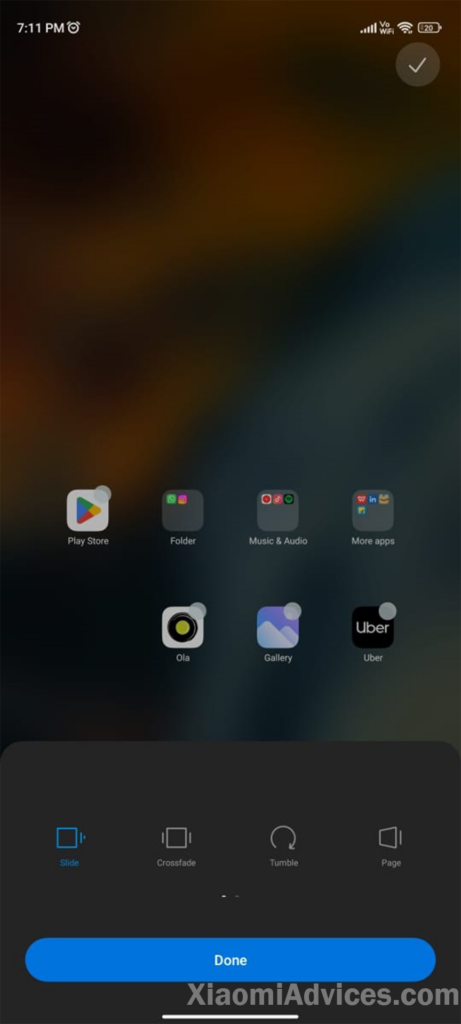 Set default home screen
Users can change the default page that appears when they tap the home button twice by choosing the "Changing default home screen" option.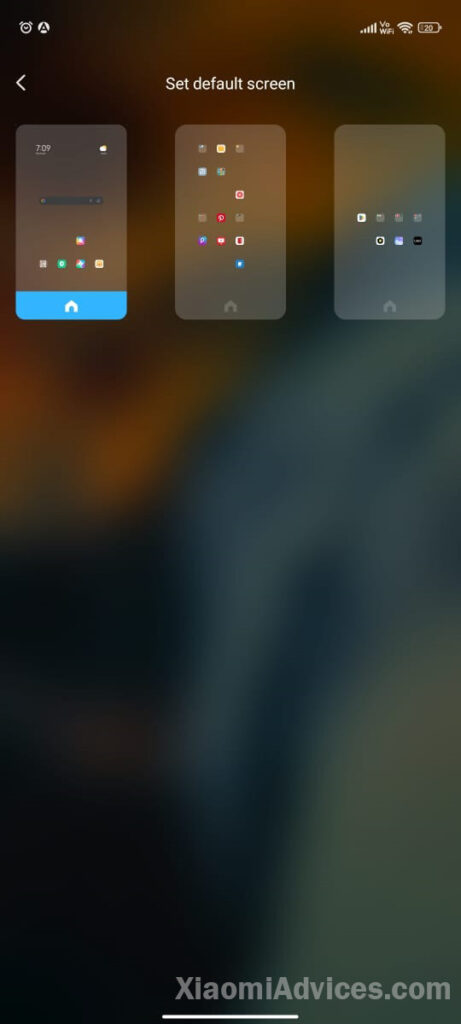 Don't Show Text
The "Don't show Text" option hides the app icons names on your home screen.
Remove text from widgets
The "Remove text from widgets" option removes the writing underneath the widgets.
Home screen layout
The "Home screen layout" option lets you change the grid size on your home screen to make it bigger or smaller.
Fill cells of uninstalled apps
The "Fill cells of uninstalled apps" feature automatically reorganizes the icons on your home screen when you delete an app so that your home screen still looks good even after you uninstall an app.
Lock Home screen layout
If you turn on the "Lock home screen layout" option, you won't be able to change how your home screen looks. This means the user can't add new icons, remove old ones, or move them around.
More
The "More" option is a quick way to open the complete settings page in your Xiaomi Device.
Inside the More option
We won't explain the ones already covered in a pop-up as they are identical.
Default launcher
The "Default Launcher" option allows users to download and install launchers on their Xiaomi device and choose which one to use.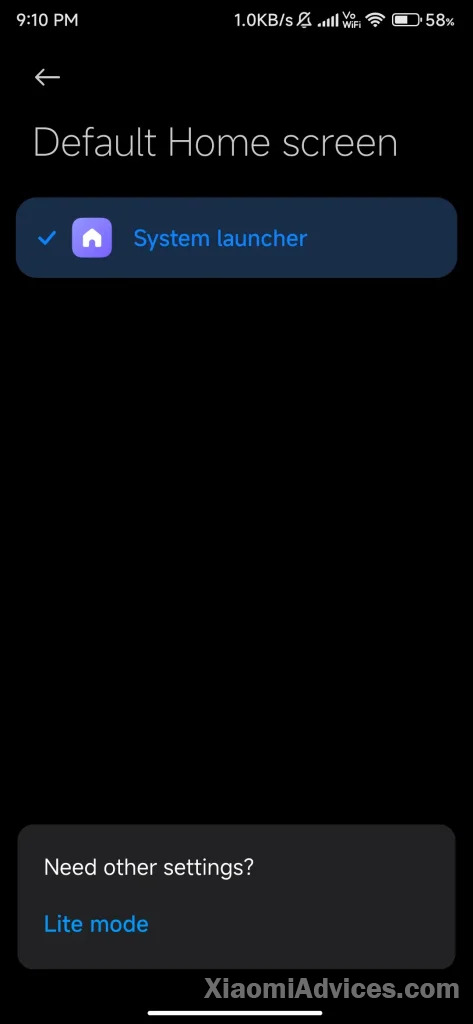 Home screen
The "Home Screen" option allows user to turn on or off the app drawer or enable lite mode on the home screen.
App vault
The "App Vault" option lets the user turn on or off the app vault page, which is located on the far left side of your home screen pages.
Swipe up on the Home screen to open search
By enabling "Swipe up on the Home screen to open search," you can access a pop-up window for searching that allows you to search for anything you want.
Animation speed
The "Animation speed" option lets you change how quickly the app launches and closes animations play, but it's not available on all devices.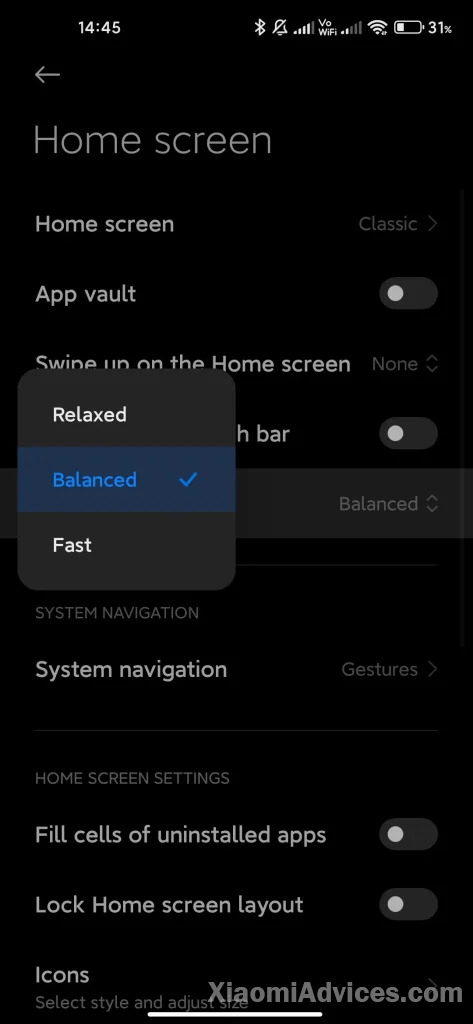 System navigation
The "System navigation" option allows users to switch between gestures or the 3-button navigation or turn off gestures altogether.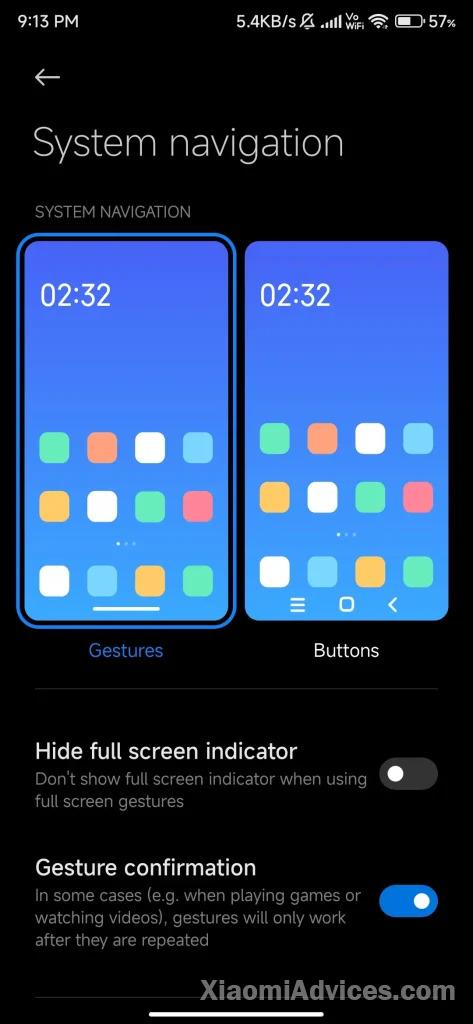 Icons
The "Icons" option allows the user to alter the size and style of the icons.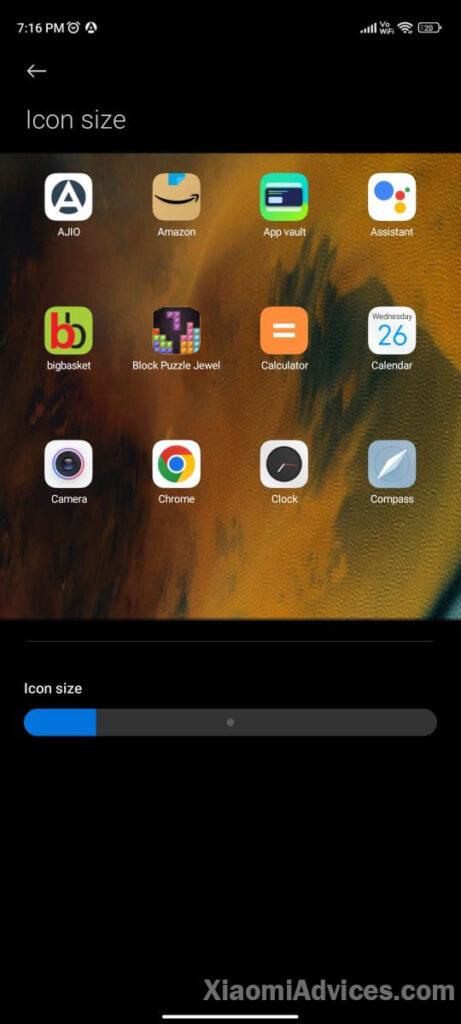 Global icon animations
If your Xiaomi device supports it, you can use the "Global icon animations" option to enable or disable the icon animations for third-party apps.
Arrange items in recents
The "Arrange items in recent" option lets user change the arrangement of their recent apps
vertically or horizontally.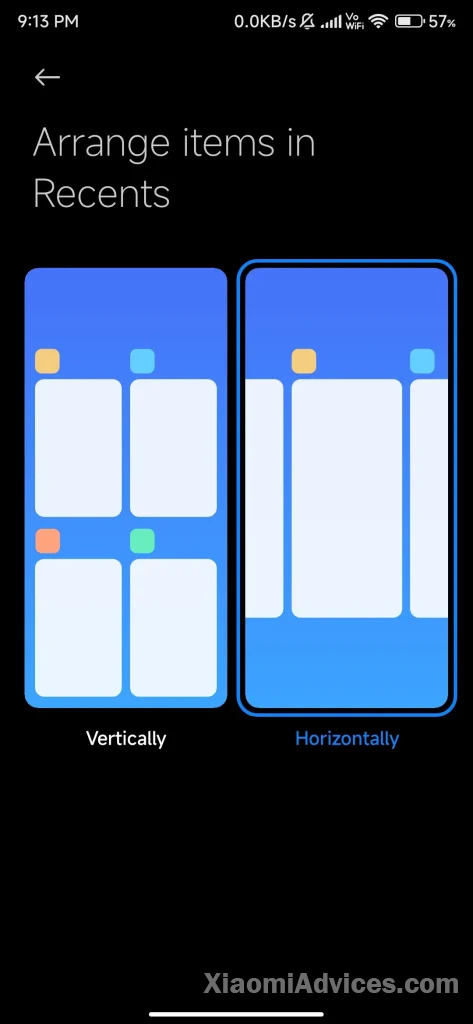 Show memory status
The "Show memory status" option lets you turn the memory/RAM indicator on or off in the recent apps section.
Blur app previews
The "Blur app previews" option allows the user to blur the preview of an app on the recent apps screen for privacy reasons, in case someone is trying to spy on them.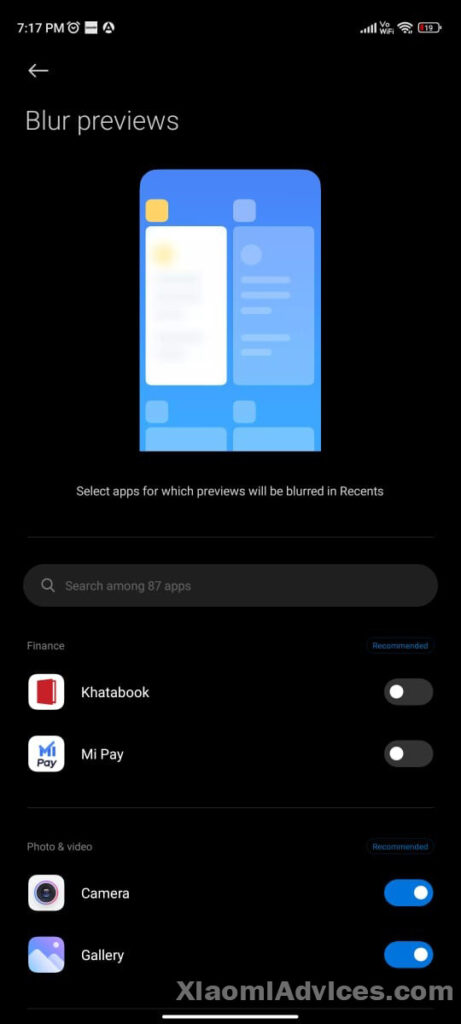 The MIUI Launcher has two widgets/app vault sections: a new one available for high-end Xiaomi devices and an old one for low-end Xiaomi devices. We will explain how to enable the new section for low-end devices and other locked features.
Enable MIUI 14 Launcher disabled features
Xiaomi System Launcher may disable some features on specific devices due to hardware limitations. However, it is possible to enable these options again through rooting. You can refer to our guide below to learn how to do it.
How to install SipolloLauncher Mod
Also Read: Download POCO Launcher APK – Latest Version
Download Xiaomi MIUI System Launcher
Here, we have provided the stable and alpha versions of MIUI Launcher. The MIUI 14 Launcher is a new version and may have some unexpected errors and bugs as it has been extracted from Xiaomi 13.
MIUI Launcher Stable Versions
MIUI Alpha Launcher Versions
The MIUI Alpha Launcher version is similar to a sneak peek of an unfinished operating system. It's for tech-savvy people who like experimenting with new features and sharing their feedback with Xiaomi. However, it's important to remember that alpha versions are not thoroughly tested and may contain issues that could damage your Xiaomi devices or cause data loss which could be important to you. So, if you don't feel comfortable with the technology, it's better to wait for the stable version of MIUI Launcher before trying it out.
FAQ
Can you install the stable version of MIUI Launcher on the alpha version or vice versa?
It depends on the specific case; sometimes, it may work, but other times it may cause problems. However, we advise against attempting it.
What should I do if I wrongly installed a version of MIUI that is incompatible with my region?
If the MIUI Launcher app works well, you can continue using it even if it's from a different region. However, if you experience issues, you can try uninstalling the updates for the app. If that doesn't work, you may need a factory reset on your device.
Also Read: